[TRANS] 121210 Actors Of 'Queen Of Ambition' Get Together For Their Drama's Poster
A photo has been released from the 'Queen of Ambition' poster photoshoot.
Actress Kim Sung Ryeong posted a photo with the caption "SBS Monday-Tuesday drama Queen of Ambition" on her Twitter account on the 10th.
In the photo can be seen Go Jun Hui, TVXQ's U-Know Yunho, Soo Ae, Kwon Sang Woo and Kim Sung Ryeong. It seems as though they are in the process of a photoshoot for the poster of SBS' new Monday-Tuesday drama 'Queen of Ambition'.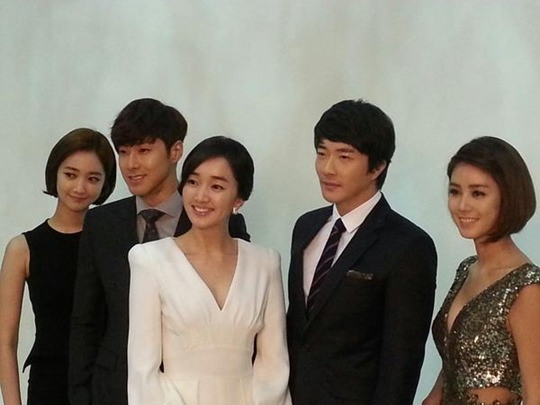 'Queen of Ambition' held its first script reading session on the 6th. On this day, approximately 60 people were present including staff, PD Park Shin Woo, Jo Young Gwang, and actors Kwon Sang Woo, Soo Ae, Jung Yunho, Kim Sung Ryeong, Lee Deok Hwa, Cha Hwa Yeon, Lee Il Hwa and Go Jun Hui.
Meanwhile, 'Queen of Ambition' will portray the transformation of Ha Ryu (Kwon Sang Woo) and Da Hae (Soo Ae)'s pure souls as they are tainted by a fatal love and betrayal. The drama will be a panorama of an endless lust and conspiracies, and the destruction and salvation of people's existences.
The drama will begin airing next January as the follow-up production of 'King of Dramas'.
Source: [TV Daily]
Translated & Shared by: dongbangdata.net
Momma's Source; dongbangdata.net
Share This