[Trans] 130218 Kim Jaejoong Opens His 'Asia Tour' In Thailand… Thrills 5,000 Fans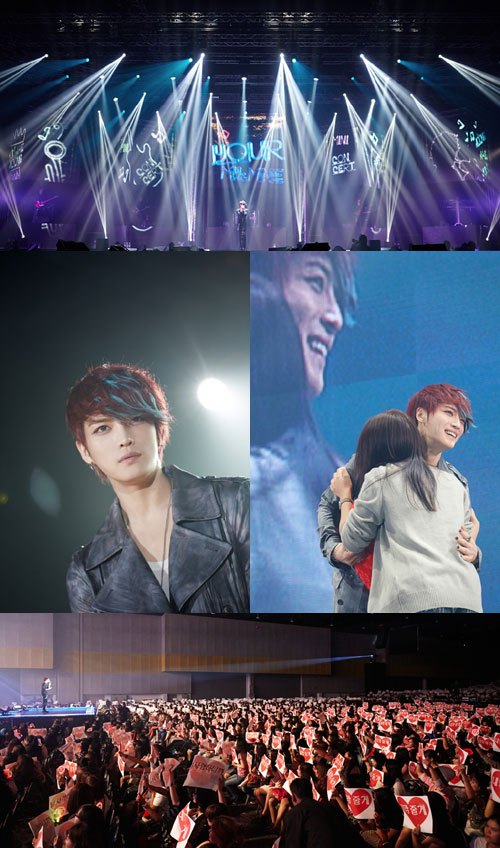 JYJ's Kim Jaejoong announced the beginning of his Asia Tour in Thailand.
On the 17th, Kim Jaejoong shared a special experience with 5,000 fans through his 'Your, My and Mine in Thailand' concert at the Bitec Hall in Bangkok.
Approximately 60 different media outlets attended the press conference that was held ahead of the concert, proving just how popular the star is in Thailand, and Kim Jaejoong commented, "I really wanted to come to Thailand as soon as I could. I'm very nervous but happy to be here again," and "I promise to give a great performance."
The concert, which was prepared to commemorate the release of Kim Jaejoong's first solo mini album, was a combination of a fanmeet and a mini concert and the star thrilled his Thai fans with a quiz show, a rock-paper-scissors game, and a cooking show that involved the audience.
After the end of the first half of the concert, Kim Jaejoong transformed into a rocker and performed 'One Kiss' from his album, and also performed rock versions of 'Though I Loved You', 'For You' and 'I Always'.
After performing an explosive rendition of Kim Jaejoong's title song 'Mine', he also sang 'I'll Protect You', which was met by a special event by the fans in which they all held up signs that said, 'I'll give you my heart' and sang along with him.
At the fans' perfect Korean pronunciation, Kim Jaejoong asked, "You're sure we're in Thailand?" and prepared lollipops for all 5,000 fans to celebrate Valentine's Day.
Meanwhile, Kim Jaejoong will be continuing his Asia Tour, following his concert in Thailand.
Source: [frontier times]
Translated & Shared by: dongbangdata.net
Momma's Source: sharingyoochun.net
Share This