[TRANS] 130627 Jaejoong's Yokohama Arena Performance Draws To A Close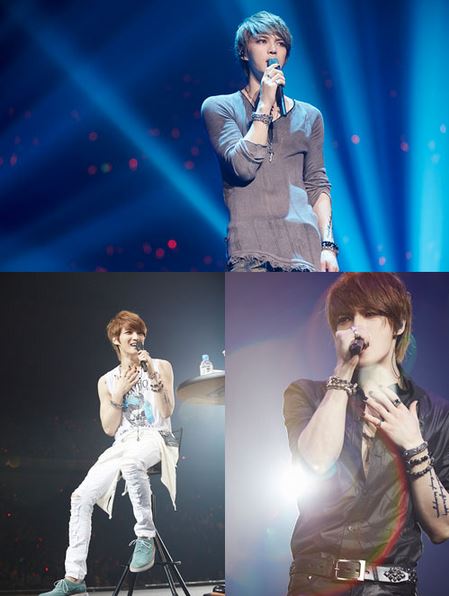 Jaejoong ended his 5-month long Asia Tour together with over 45,000 Japanese fans.
From 24 to 26 June, Jaejoong held his "Kim Jaejoong Grand Finale Live Concert and Fanmeeting" at the Yokohama Arena, meeting with over 45,000 fans.
For Jaejoong's concert this time, as soon as the ticket sales begun, the number of ticket applications received exceeded (the number of tickets available) by 4 times, and tickets were completely sold out. In response to requests from fans, standing seats and restricted view seats were added, and sold out completely as well, demonstrating Jaejoong's high popularity.
During the first part, the fan meeting segment, Jaejoong spent an enjoyable time with the audience that filled the venue over the 3 days. During the second part, the concert segment, aside from singing songs from his first album, Jaejoong also touched the fans by singing popular Japanese songs such as "Precious", "Crescent Moon" and "Glamorous Sky".
During the second segment, when Jaejoong transformed into a rocker and appeared together with the live bands, the fans cheered loudly.
Jaejoong opened the mini-concert with "Mine", the title track from his first solo mini-album, and sang all-live covers of popular Japanese songs including "Moonlight" and "The Last Rain" aside from the songs previously revealed through the setlist.
When Jaejoong began singing Ayaka's "Crescent Moon", the fans did a little event for Jaejoong by taking out their respective green lightsticks. And during B'z's "Ultra Soul", Jaejoong heated up the atmosphere of the concert as he and his fans took turns singing verses.
In response to the endless calls from fans for an encore, Jaejoong sang Nakashima Mika's "Glamorous Sky", presenting an explosive live stage right up to the last song, to which fans also gave their passionate support right up till the end.
Even after Jaejoong left the stage following the encore stage the fans continued calling out "Kim Jaejoong" for some time. Jaejoong then went back out on stage without a mike, shouting his thanks to the fans. Many fans were seen tearing up and not leaving the venue.
During the last performance yesterday (Wednesday), Jaejoong expressed his feelings about the conclusion of the Asia Tour, "I really wanted to meet everyone. Thank you for coming all this way. I would be great if we could meet again. I love you."
On another note, following the release of his first solo album in January, Jaejoong began his Asia Tour through Korea, Thailand, China (Shanghai, Nanjing), Hong Kong, Taiwan, and finally Japan, and met with over 83,000 fans in a total of 7 cities.
Source: [jyjjapan]
Translated & Shared by: dongbangdata.net
Momma's Source: dongbangdata.net
Share This