The reason why everyone should see Kim Junsu in 'Elisabeth'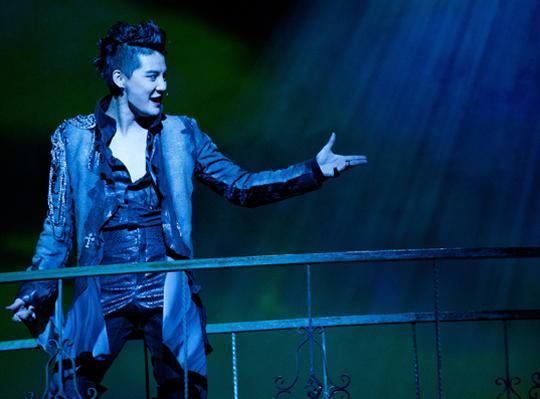 'Elisabeth', the large-scale musical that took the industry by storm last year, has returned. Like last year, Kim Junsu's performances, which seat a total of 20,000 people, were sold out in five minutes.
Looking at the overall critiques by the public and media, Kim Junsu's ticket power is astounding. But this time around, the expectation for 'Elisabeth' is different from that of last year, because this time around, many people are saying "'Death' by Kim Junsu, 'Death' for Kim Junsu."
First of all, last year's Tod role was given to three actors, Ryu Jung Hwan, Song Chang Ui and Kim Junsu. The first two actors are veterans who each have at least 10 years of experience in the industry. Because of this, Kim Junsu was constantly compared to them for their ease and presence on stage.
On the other hand, 2013′s 'Death' role was given to Kim Junsu, and two other young actors. Park Hyo Shin, who appeared in 'Rock Hamlet' in 2000 but is better known as a singer than a musical actor, and Jeon Dong Seok, who hit the musical scene through the 2009 production 'Notre Dame de Paris'.
Not only does Kim Junsu have the merit of having been in the first round of 'Elisabeth' performances, but he has also created a strong foundation for himself in the past three years through 'Elisabeth', 'Tears of Heaven' and 'Mozart!'.
During the press call of 'Elisabeth' that was held on the 25th at the Seoul Arts Center's Opera House, composer Sylvester Levay showed his faith in the singer as he said, "I personally think of him as a close friend and I'm honored that Kim Junsu will be working with me for another production since 'Mozart!'. His presence on stage is truly spectacular."
Kim Junsu's role of 'Death' is a fantasy character that draws off the fact that the real-life empress Elisabeth used to write countless poems about death. He is an important character who makes the life of 'Elisabeth' more dramatic and tragic.
'Death' falls in love with 'Elisabeth' when she falls from a tightrope at a young age. He is a mystical character whose gender can't be properly defined. Though he approaches Elisabeth as a man, he approaches her son Rudolph as a woman. He follows her wherever she goes throughout her life, and tries to seduce her into taking the last dance with him because he is the only one who can give her true freedom.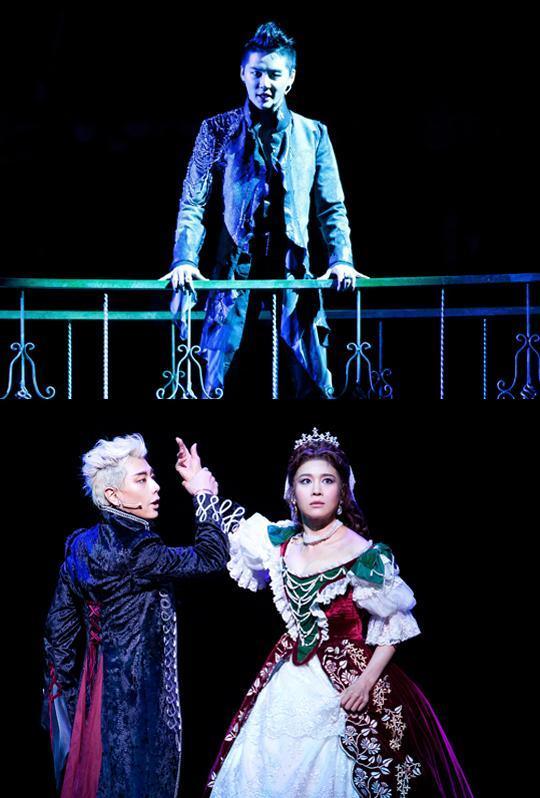 The image of 'Death', who is both strong and soft, is similar to Hyde of 'Jekyll and Hyde' or the phantom of 'The Phantom of the Opera' when he appears on a lift. In the musical, he seduces both Elisabeth and her son Rudolph, but also has to draw the audience in and entrance them.
'Death' is accompanied by six 'Angels of Death', who fill the stage with sophisticated choreography. The 'Last Dance' number showcased Kim Junsu's superior dance skills that he honed as a member of idol group JYJ.
During the press call, Kim Junsu performed 'The Shadows Grow Longer' and captivated everyone with a more dignified and charismatic stage presence than last year. During the press conference that followed, he impressed the reporters as he sat and paid attention to what the other actors were saying. It seems as though we must let go of some of the prejudices and negative feelings we have for singer-turned-musical-actors when it comes to Kim Junsu. One critic even justifiably stated, 'Kim Junsu's aura grows longer.'
Kim Junsu is currently facing restrictions on his activities as a singer due to a dispute with his former agency. During the press conference, Kim Junsu stated, "My longing for the stage is on the verge of desperation. I'm only able to show my energy through concerts or in musicals. As desperate as I am, I'm going to put all my power and energy into each and every scene." The instincts he picked up while on stage, as well as the passion he has for what he does, will ensure that Kim Junsu's charisma will have increased tenfold this time around.
One more thing, EMK plans to open the musicals 'Marie Antoinette' and 'Dance of the Vampire' next year and the year after, and it looks as though he may be in the running to appear in one of these shows.
Meanwhile, the big and small changes made to this year's 'Elisabeth' is drawing the attention of many. The biggest change is that a new song called 'The Dance of Love and Death' has been added to the musical. As a song that was showcased during the Japanese performances of the musical, it will greet Korean audiences this year. Small details have been fixed to bring a new 'Elisabeth' to the music industry.
'Elisabeth' opens on the 26th of July and features Ok Joo Hyun and Kim So Hyun as the leading role of Elisabeth. They will be joined by Lee Ji Hoon, Park Eun Tae, Yoon Young Seok, Min Young Ki, Lee Jung Hwa, Kim Isak and Noh Ji Hoon.
Source: [entermedia]
Translated & Shared by: dongbangdata.net
JYJFantalk Source: dongbangdata.net
Share This