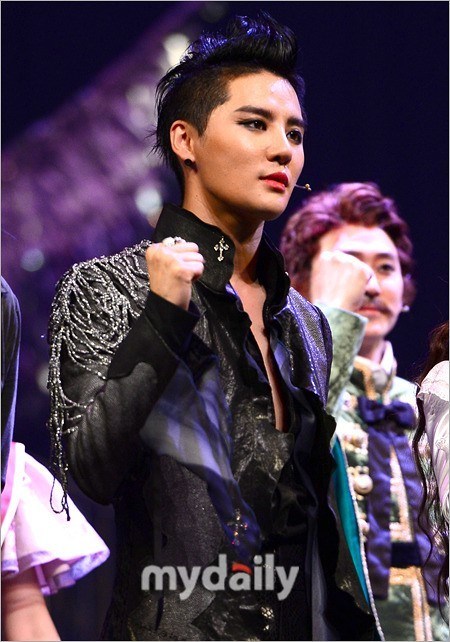 JYJ (Park Yoochun, Kim Jaejoong, Kim Junsu)'s Kim Junsu has broken through the prejudices surrounding idols in the musical industry with his explosive presence in 'Elisabeth'.
JYJ's agency C-JeS Entertainment stated, "Kim Junsu has returned to the role of 'Tod' (Death) in the musical Elisabeth, which opened its curtains for the second time in July. Having been praised for his rendition last year, Kim Junsu has been praised as the one and only 'XiahTod' of the world for this year's rendition."
They continued to add, "In all eight of his performances, since he began performing on the 14th of August, he has received a standing ovation. He has taken the musical by storm by evolving 'Tod' into a more beastly and dynamic character."
If last year's 'XiahTod' was like a beastly and instinctual panther, this year's 'XiahTod' has returned as a cold but deadly 'Vampire' with black hair, red lips, and eye make-up that resembles the wings of death. As someone who was in the cast last year, Kim Junsu worked hard to analyze every scene and character as thoroughly as possible. His solo numbers such as 'The Last Dance' and 'As the Shadows Grow Longer' completely captivated his audience.
A representative of C-JeS Entertainment revealed, "Kim Junsu monitors all his performances after every show, and looks over every detailed movement and line, pouring all his passion into his work."
Multiple sources stated, "Kim Junsu is the only musical actor who has sold out all of his performances in this Summer's lineup of large-scale musicals. Because of his passion and the show's top quality status, even overseas fans have chosen it as the must-see show of the season, and we hear that even scalper's tickets are hard to find these days."
Kim Junsu will step on stage again on the 28th of August at 8p.m. at the Seoul Arts Center's Opera Hall.
Source: [mydaily]
Translated & Shared by: dongbangdata.net
JYJFantalk Source: dongbangdata.net
Share This