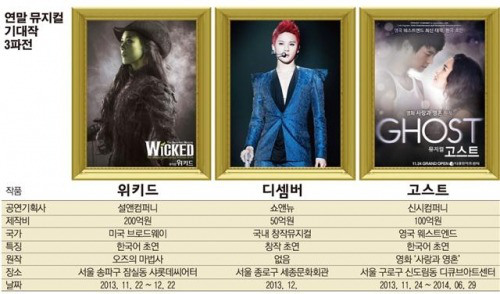 The end-of-the-year season is approaching the musical industry. Though it's only mid-October, musical fans are already excited. Especially consdiering the fact that some concerts already have begun selling tickets, people are busy looking for great musicals to watch and nabbing the best seats in the house.
The hottest musicals that are set to make their debut this year are 'Wicked' (Korean), 'December: The Song That Hasn't Ended' and 'Ghost'. All three will be making their debut in the Korean industry for the first time. Considering the fact that it's difficult to gauge how good a musical is if it's never been shown before, it's natural for musical lovers to be skeptical about these productions. Because of this, 'Wicked' is obviously the favorite of the list with a 96% ticket reservation rate (Interpark), attracting 200,000 people in the shortest time ever. Musical columnist Jung Da Hoon stated, "It's not easy to guess the success level of a debuting musical," and "Considering the fact that 'Wicked' has a storyline and music that has already been recognized, many are excited for it."
'Ghost', which comes all the way from the 5-trillion Won industry of the UK's West End, stands out as having a well-built storyline, which is familiar as the movie the musical is based on was released in Korea in 1990. The original movie's popularity and familiarity are the greatest weapon of 'Ghost'.
'December' is in the most unfavorable position as it has never been shown before. However, it has more than enough up its sleeve to come out on top. Bringing in Kim Junsu, who has the biggest 'ticket power' in the industry, and teaming him up with Kim Kwang Seok's music. The smart choices made by NEW, the movie production company making its debut in the musical industry with the upcoming production, have proven that 'December' is a force to be reckoned with. Many representatives in the industry have voiced their opinion that in terms of competitiveness of cast members, 'December' comes out on top though 'Wicked' has Ok Joo Hyun and 'Ghost' has Joo Won. Some are saying that having Kim Junsu on the cast list is enough to guarantee success. Musical columnist Park Jung Hwan stated, "Kim Junsu, who has the greatest ticket power in the musical industry, and Kim Kwang Seok's music have teamed up," and "The synergy those two will create is astronomical."
Source: [etoday]
Translated & Shared by: dongbangdata.net
JYJ Fantalk Source: dongbangdata.net
Share This