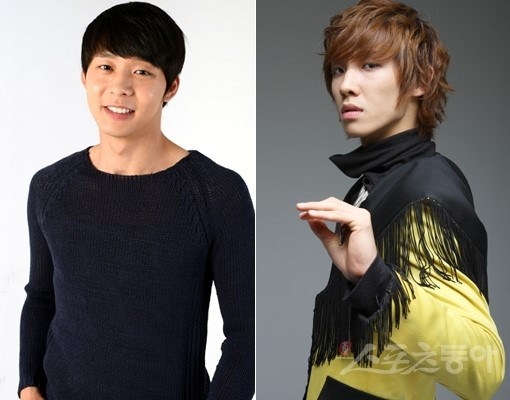 Park Yoochun begins filming for 'Sea Fog'… Will even take on a bed scene
Lee Joon bares his upper body for 'An Actor is an Actor'
It's a 'choice that is on a whole new level'. The daring challenges that Park Yoochun and Lee Joon, who have made their mark as idol stars-turned-actors, are taking to enter the movie industry are garnering a great deal of attention. Instead of choosing 'even't movies that rely on their popularity as idol stars, these two celebrities have decided to take on completely unexpected roles, even braving scenes that involve small doses of nudity.
JYJ's Park Yoochun recently began filming for the movie 'Sea Fog' but MBLAQ's Lee Joon will be greeting moviegoers on the 24th with 'An Actor is an Actor'. One is a thriller while the other is an action movie, but both draw attention for the fact that they are not romantic comedies, a route most often taken by idol stars.
Park Yoochun scored a role in the movie with the full support of Director Bong Joon Ho, and will be working alongside great actors such as Kim Yoon Seok and Moon Sung Geun. In a movie full of violence and desire, Park Yoochun will be saying all his lines with a Jeolla Province dialect. It has also been said that he will be filming a bed scene with the actress who will play a women Park Yoochun's character falls in love with.
Lee Joon's next role has become a little wilder. 'An Actor is an Actor' by Director Kim Ki Deok has Lee Joon as a top star who has a bed scene with four different actresses. The singer even bared his upper body for a scene in the movie. In 2009, Lee Joon appeared as the younger version of Rain in 'Ninja Assassin' and has received many movie offers since then, but ended up choosing 'An Actor is an Actor' after deciding that it would be the best choice for him.
Park Yoochun and Lee Joon's challenges can be seen as their determination to cast away their 'idol premium' and succeed on their own as actors. A representative of the movie industry stated, "Park Yoochun and Lee Joon are signaling their entrance as up and coming actors in their twenties," and "If they are able to succeed in their first leading-role movies, they have the potential to make it big in the industry."
Source: [sports donga]
Translated & Shared by: dongbangdata.net
JYJ Fantalk Source: dongbangdata.net
Share This