I am glad that you want to live simply, Yoochun. It makes things more enjoyable and memorable when you save them for special occasions. Smart man. Momma Cha
[Interview] Park Yuchun returns as the heir to a rich upper class family. "I really wanted to act in a traditional melodrama"Note: Parts of the interview not regarding Yuchun have been omitted
Yuchun returns as the heir of an upper class family. "I really wanted to act in a traditional melodrama."
Q. I know you've received many screenplays (T/N: aka many offers), so what's your reason for selecting this role?
Park Yuchun: I wanted to try a melodrama no matter what. I was cast last, and after seeing the seniors that were cast beforehand, I really wanted to work with them and replied, "I will do it." I want to hear that I've gotten, even if it's only slightly, better from my first performance.
Q. You played a flawless character in SKK Scandal, and this time it's also the role of a flawless heir of an upper class family. How are [the roles] similar to your personality?
Park Yuchun: On the contrary, I tend to live more simply. I tend to avoid high-end restaurants, and don't go unless it's a special occasion. I go about once a year with my mother. I don't like things like that. In that aspect, Yutaka is similar to me.
Q. What are the similarities between your character and yourself?
Park Yuchun: My first appearance is in a scene of [Yutaka] arriving at an airport , where I appear kind and well-mannered. I believe you can feel the atmosphere the character was raised in through his ease and natural manners. But this isn't because he has no concerns, but because he's experienced suffering. I really like that [about the character] and want to express that aspect [of him] well.
Q. Through our previous performance, you got a lot of "mother fans." Do you expect the same to happen this time?
Park Yuchun: For this drama, I want to focus on acting more than any other parts. I will engage myself posed to learn more. My sense of responsibility has become bigger than my first drama. Such aspects continuously take a share of my heart. I will properly and seriously take part in acting, not "did he get into acting because he's being very restricted in his activities as a singer?" I'm originally a singer, but when I'm acting I want to do it properly.
Q. In , as the drama neared the end, you showed how you were physically worn out. How do you plan to take care of your health this time?
Park Yuchun: I am completely unable to take care of my health right now. I can't even think about taking care of my health. When I really get into something, I tend to concentrate intensely… and although it's tiring, it's enjoyable. I'm enjoying [filming] even if I can't get much sleep.
Q. I heard you use Japanese a lot in the drama. Was there anything particularly difficult?
Park Yuchun: Speaking in Japanese isn't difficult, but your tone can't help but change if you use a different language. When I speak in Japanese, I sometimes come out as Park Yuchun, not Yukata, so I'm trying to be careful in those parts.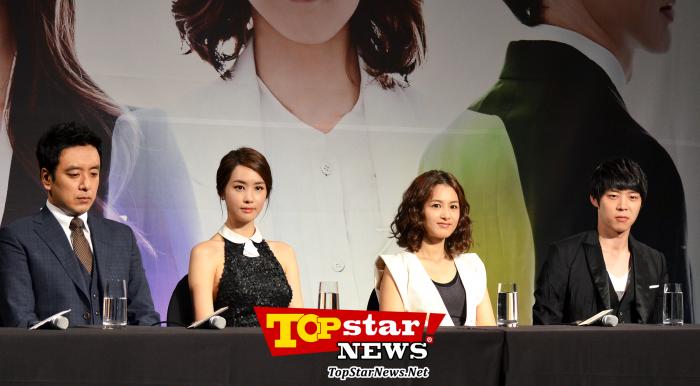 "The worst lie in my life" told by the four lead actors
…omitted…
Kang Haejung: The lie I tell most often is saying "yes" to the question asking if I've eaten. It's because if I tell them I haven't eaten, many different situations may arise so I simply lie that I've eaten.
Park Yuchun: I think I also tell lies like that often.
's ratings as told by the four lead actors
…omitted…
Park Yuchun: After reaching a certain percentage [of viewers], I hope it won't go down [to a lower percentage] from that
Source. Top Star News
Translation by. withJYJ
~*We will always be with JYJ!!*~
Please remove with full credits
Our Source: sharingyoochun.net
Share this: