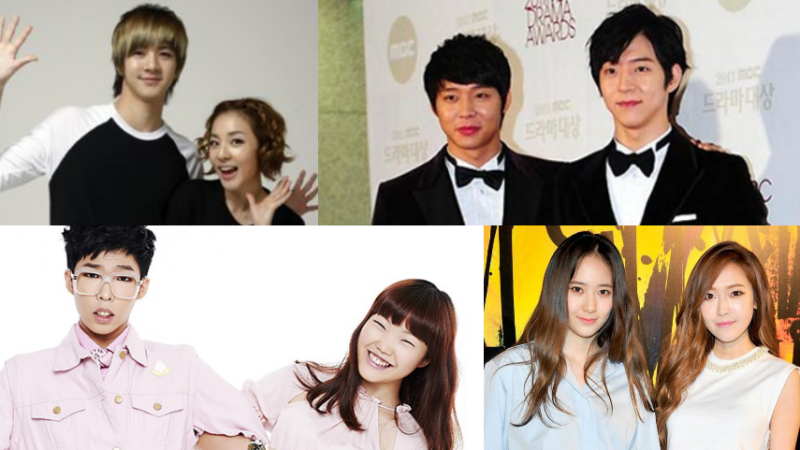 In order to become a celebrity, you need talent as well as good looks that can stand out and outshine regular citizens. For this reason, it's not an easy feat to have even just one celebrity in the family, let alone more than one. However, there are an increasing number of celebrity siblings appearing in the entertainment industry in recent years.
A prime example of this are the Jung sisters: Girls' Generation's Jessica and f(x)'s Krystal. Not only do they actively promote within their own respective groups, they also show their abilities in various different areas through dramas, musicals, CFs (commercial film), photo shoots, and more. The two sisters have beautiful looks, exceptional fashion sense, and are currently the muses of a famous accessory brand.
Idol siblings, 2NE1's Sandara Park and MBLAQ's Thunder are known for their round eyes and extremely small faces, acting as the nation's baby-face siblings. The numerous photos of them together show off their incredible visuals, as well as their similar fashion styles.
Park Yoochun and Park Yoo Hwan, with their good looks, are both in the midst of solidifying their positions as actors. With their tall height, broad shoulders, and handsome features, they have everything it takes to shake the hearts of all females. These brothers are called "Mother's Friend's Sons" for their positive image. Other similar famous siblings include Kim Tae Hee and Lee Wan, Rainbow's Jaekyung and N.Flying's Kim Jae Hyun, and singer Joo and BTOB's Ilhoon.
CF director Bae Doo Han and actress Bae Doo Na are a sibling duo that emerged as UNIQLO's campaign models, displaying their own distinctive synergistic results.
Now, siblings are even forming groups together. Lee Chan Hyuk and Lee Soo Hyun of Akdong Musician (AKMU) have debuted as a sibling duo after winning on SBS' audition program, "K-Pop Star Season 2, " in 2012. They instantly received the public's love and interest with their numerous self-composed songs and original music style that is hard to come by in today's music industry.
Following Akdong Musician's win on the audition program through a relateable original song, they signed a contract with YG Entertainment. Also, they have been garnering more and more attention after finishing up their successful debut stage on Mnet's "M! Countdown" on April 9.
The public's expectations for these celebrity siblings are rising and you can't help but think that it runs in their blood when you see such talented and good looking siblings in one household.
credit: soompi
shared by: sharingyoochun.net
JYJ Fantalk Source: sharingyoochun.net
Share This