Note: FINECUT is a film company based in Seoul, Korea, specializing in international sales, marketing, production, financing and acquisition.
'Sea Fog' will be introduced at EFM 2014 (6~14 February) in Berlin as an upcoming release.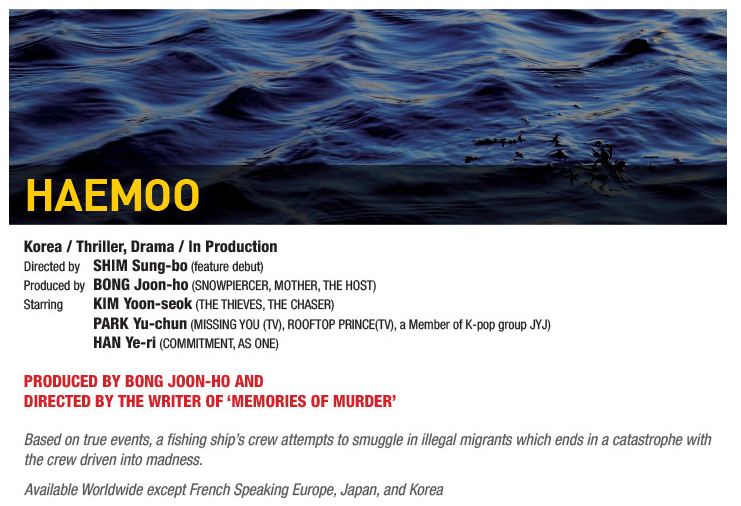 Synopsis
Based on true events, the story is about a large 69-ton fishing boat's crew as they attempt to smuggle in illegal migrants in order to keep their fishing jobs. But their plan goes wrong when they meet a tragic accident while transporting the thirty or so illegal migrants on the ship amid a heavy sea fog. And amid the chaos, the youngest crew Dong-sik tries to protect a young female migrant who he falls in love with against the crazed Captain Kang and other crew members.
Director's Comment
Based on a true event that took place in Yeosu, 2001, HAEMOO is a combination genre film that fuses crime thriller and melodrama. Ordinary fishermen face moments of hell as they take on the role of smuggling illegal Korean-Chinese migrants. Stuck in thick sea fog, I wanted to portray the innocence and personal sacrificial love that rise from clashing of this generation's pain, human desire, human desire and morality in a moment of grave adversity.
Cast
| | |
| --- | --- |
| KIM Yoon-seok | Captain Kang, captain of Junjin, in his 40s |
| PARK Yu-chun | Dong-sik, junior sailor in his 20s |
| HAN Ye-ri | Hong-mae |
Credit
| | |
| --- | --- |
| Director | SHIM Sung-bo |
| Executive Producer | BONG Joon-ho |
| Producer | BONG Joon-ho, CHO Neung-yeon, Lewis Taewan KIM |
| Screenplay | SHIM Sung-bo, BONG Joon-ho |
| Cinematographer | HONG Kyung-pyo |
| Lighting Director | KIM Chang-ho |
| Editor | KIM Sang-bum, KIM Jae-bum |
| Production Designer | LEE Ha-jun |
| Make-up | HWANG Hyeon-kyu |
| | |
| --- | --- |
| Wardrobe | CHOI Se-yeon |
| Sound | LIVETONE(CHOI Tae-young) |
Technical Info
| | |
| --- | --- |
| Production Year | 2014 |
| Country of Production | Korea |
| Language | Korean |
| Color | Color |
| Sound | 5.1 |
| Production Budget | US 10.0 M |
Source: FINECUT
Shared by: JYJ3
JYJ Fantalk Source: JYJ3
Share This