[Translation] 110603 C-JeS Press Release – Regarding The Lawsuit Filed Against Avex Management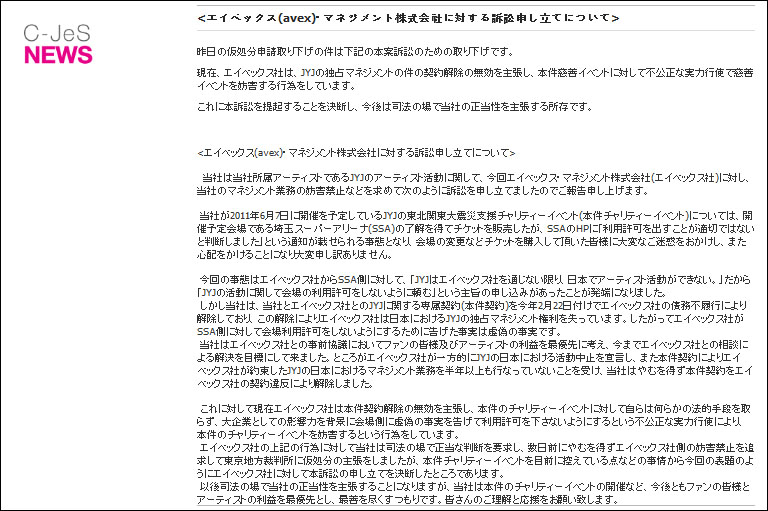 With regards to the yesterday's withdrawal of the provisional injunction, it was withdrawn due to the following case.
Currently, Avex is asserting that JYJ's exclusive management contract termination is not valid, and used unfair influences to conduct obstructive measures against the charity event in question.
We have decided to take action against this, and from now on, will assert the legitimacy of our company in the courts of law.
About The Lawsuit Filed Against Avex Management
With regards to our company and our company's artist JYJ's activities, we would like to report that we filed a lawsuit against Avex Management for an injunction against the obstruction of our company's management activities.
Our company had been planning to hold the JYJ Tohoku earthquake charity event which is scheduled for 7 June, and although we had gotten consent from the planned venue Saitama Super Arena (SSA) and sold tickets, it became a situation where the SSA homepage put up a notice stating that "it was decided that it would not be appropriate to approve the use of our venue." The change in venue brought about inconvenience and confusion to everyone who had purchased the tickets, and we apologise for the worry caused.
This situation was a result of a message from Avex to the SSA side, with the key point being that "Without Avex as a proxy, JYJ cannot hold activities as artists in Japan," so "we request that the use of venue for JYJ's artists' activities be denied," and this was how things started.
However, our company and Avex's exclusive contract for JYJ had been terminated on 22 February of this year, due to the non-fulfilment of obligations, and with this termination, Avex had lost their exclusive rights over the management of JYJ in Japan. Accordingly, Avex's reason given to SSA for the request to not approve the use of their location was actually an untruth.
Our company had been in preliminary discussions with Avex, with the consideration of the fans and artists' wellbeing as our top priority, and were in discussions with Avex with the aim of resolution. However, Avex had unilaterally announced the suspension of JYJ's activities in Japan, and Avex had not fulfilled any of its promised management duties in Japan as per the contract for over half a year, so we were forced to terminate the contract with Avex due to breach of contract.
Despite this, Avex insists that the termination of the current contract is invalid, and for this charity event and personally, without taking any form of legal action, used their influential power as a big corporation and told untruths to the venue side from the background, utilizing unfair influences to obstruct this charity event.
In light of the abovementioned actions from Avex, our company had requested for a proper verdict from courts, and although we had been forced to seek a preliminary injunction against Avex from the Tokyo District Courts a few days ago, given the current circumstances of the charity event being just around the corner, it was decided that we would not continue with the lawsuit against Avex, as stated in the topic (of this press release).
In the future, we will be asserting our company's legitimacy in the courts of law, but for this charity event, and with the fans' and artists' wellbeing being our priority, we will continue to do our best. We thank everyone for their understanding.
Source : [C-JeS]
Translated & Shared by : dongbangdata.net
Momma's Source: sharingyoochun.net
Share this: