[TRANS] 120427 "Fly With The Gold" Reveals Its First Poster, Line-Up Of 6 "Robbers" Including Tsumabuki Satoshi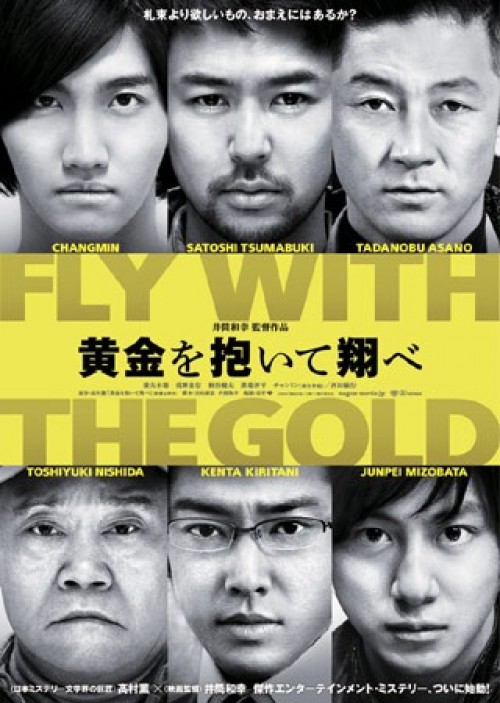 The poster of the movie "Fly With The Gold" (directed by Izutsu Kazuyuki), starring actor Tsumabuki Satoshi, had its first poster revealed on 27 April. The poster features a catch-phase, "Is there something you want more than money?", along with pictures of the 6 actors, including Tsumabuki, who are involved in attempting to rob the gold bullion in the movie.
The movie is adapted from the debut crime novel of Japanese best-selling author Takamura Kaoru, which was was awarded the Japan Thriller Suspense Award. The plot depicts the story of 6 men who plan an attempt to steal a gold bullion worth 24 billion yen, which is said to lie in the underground vault of a megabank in Osaka. As the plan is executed, the true agenda of these men slowly become clear.
The movie stars Tsumabuki Satoshi, Asano Tadanobu, Kiritani Kenta, Mizobata Junpei, Tohoshinki's Changmin and Nishida Toshiyuki. The movie will premiere in November.
(irrelevant portions omitted)
Source : [Mantan Web via yahoo.jp]
Translated & Shared by : dongbangdata.net
Momma's Source: dongbangdata.net
Share This