[TRANS] 120728 TVXQ's U-Know Yunho And BoA Go On Camera With No Make-Up On, "But They're Still Gorgeous"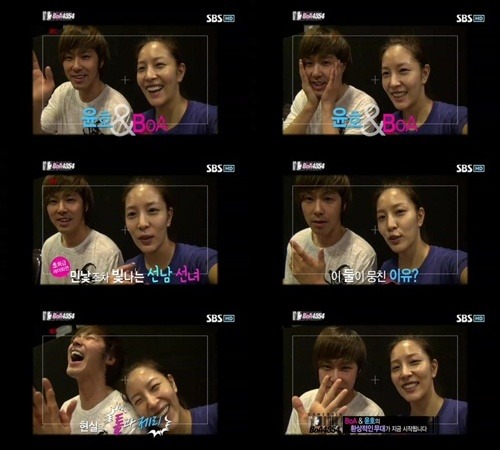 U-Know Yunho and BoA appeared on camera without any make-up on.
During BoA's comeback show 'BoA 4354′ on the 28th, footage was aired of BoA practicing with U-Know Yunho, who was helping the singer out with her performance of 'Only one'.
The two celebrities, who came together for a couple dance for the show, appeared on camera with no make-up on but their good looks still shone. Behind the stage, BoA looked at Yunho and said, "Yunho, I find myself able to really get into it when I dance with you." But they burst into laughter as they described their relationship like "That of Tom and Jerry" as Yunho is too tall for her.
In the following performance of 'Only one', BoA and U-Know Yunho's joking side seemed to have disappeared completely as they showcased an amazing couple dance that wowed the audience.
Meanwhile, BoA has released her seventh album 'Only one' and will be holding her comeback stage in SBS' 'Inkigayo' with SHINee's Taemin.
Source: [hankooki]
Translated & Shared by: dongbangdata.net
Momma's Source: dongbangdata.net
Share This