[News] 120926 JYJ's Kim Jae Joong Ranks High On Japanese Charts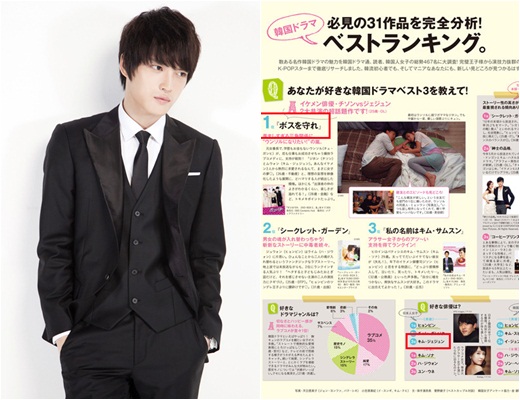 JYJ's Kim Jae Joong is drawing a lot of attention by ranking high on every Japanese chart.
Japanese magazine Anan recently did a survey asking, "What is your favorite Hallyu TV series?" SBS's Protect The Boss, in which Kim appeared, ranked first.
Kim also ranked third, following Hyun Bin, on the survey of 'Japanese women's favorite Korean actor.'
The fashion magazine, which sells around 300 thousand copies every week since 1970, is well known as a publication that features the top stars. The magazine is also very popular among girls from their 20s through 30s.
The series was aired on Japanese TBS in July and received considerable attention. The 'Protect The Boss Kim Jae Joong Special Making DVD,' which will be released in November, ranked first on a chart as soon as they started to receiving reservation offers.
A Japanese official says, "Kim has many fans who love him in Japan. His series made him even more popular all cross the country."
Kim will start going on an Asian fan meeting tour on October 20 in China.
source: TV Report
credit: en.korea
Momma's Source: sharingyoochun.net
Share This