[Trans] 130112 Park Yoochun Hopes To Break Into China, Hints At Ending Of "I Miss You

"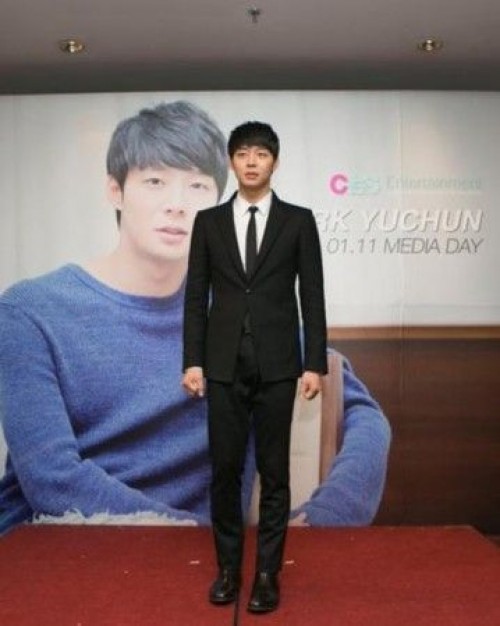 The "Park Yoochun Media Day" event was held in Beijing on 11 January. The popular Korean singer-actor met with the fans and media in Beijing after one and a half years, and there were over 100 media present that day. Yoochun thanked the fans who have been supporting him for the past 10 years since his debut, and also spoke freely about the dramas that he has acted in over the past 3 years, going into details about his two popular pieces from 2012, the dramas "Rooftop Prince" and "I Miss You."
When Park Yoochun arrived at the Beijing airport on 10 January, a large number of fans carrying blue balloons and blue banners greeted him there, and there were even fans who had clothes pegs in their hair just like the younger Lee Soo Yeon did in "I Miss You." Netizens said that the "airport had become a concert hall," proving Yoochun's high popularity in China.
Full Recap Of The Park Yoochun Press Conference
"Actor Park Yoochun" Surprised at the massive number of views for his dramas on streaming sites
Park Yoochun made his debut in 2003 and became popular as a member of TVXQ, and started activities as part of the group JYJ in 2010. In the same year, he made his official entrance into the Korean drama industry playing a lead role in the drama "SungKyunKwan Scandal", then participated in "Miss Ripley" in 2011. Within those 2 years, Park Yoochun's acting skills have gradually matured, and finally, in 2012 he took on a drama that combined the two popular themes of "time-slip" and "crown prince" attained massive local and international popularity for the drama "Rooftop Prince." Then in winter of 2012, he co-stars with Yoon Eun Hye in the melodrama "I Miss You," presenting two very different works within the same year and allowing "Actor Park Yoochun" to gain more love and recognition from the audiences.
Park Yoochun said that he felt surprised that his dramas were receiving extremely high views on the Chinese sites. The press conference that was held on this day was actually done because of the dramas, but instead of coming for the sake of promotions, it was due to the great popularity and love from everyone in China that presented him with this opportunity to come to China. On the Korean drama rankings of the Sohu streaming sites, "Rooftop Prince" has been played over 88.38 million times, and with 2 more episodes to the end of "I Miss You," there have already been over 81.08 million views for the drama, making them the no.4 and no.5 drama on the list, exceeding the numbers for that of hit dramas in 2010 and 2011, "Secret Garden" and "City Hunter."
Talks in detail about the drama "Rooftop Prince" and hints at spoilers for "I Miss You."
In previous interviews, Park Yoochun had said that he fell in love with the drama "Rooftop Prince," and he explained this time that it was because everyone had gotten along really well on set and it felt really good. In the 2012 SBS drama awards, his co-star Han Ji Min had praised Park Yoochun, saying that it was usually the female lead that brightens up the mood on set but Park Yoochun had taken her place in cheering everyone up instead. When talking about the two roles that he had to play in "Rooftop Prince," Park Yoochun said that he had placed more focus on Lee Gak, as the role of Yong Tae Yong was a new one but Lee Gak's assumption of his role (in the drama.) He also talked about scenes that left a deep impression on him, such as the happy ending in the final episode as his reincarnation is reunited with Park Ha; the tearful wedding in episode 19 when he leaves the modern world, and how the scene before the wedding where he confesses to Park Ha while lying on the bed had brought tears to his eyes even though the script didn't call for it, showing how Park Yoochun had become one with his drama character.
As for the current drama "I Miss You" which is still being broadcast, Park Yoochun said that even though many people object to this, he still hopes for a tragic ending, because he feels that only Han Jung Woo's death can the bring the story to a close. With regards to the character of Han Jung Woo, Park Yoochun said that he envies Jung Woo, because Jung Woo is a normal person, who is very humane, occasionally brash, occasionally childish. As for the kiss scenes which everyone was concerned with, Park Yoochun said that the feeling of the scene that was aired is usually different from when it was shot, but in both dramas, but as he got along well with both female co-stars Han Ji Min and Yoon Eun Hye, shooting the kiss scenes were easy. He also said that the kiss in episode 18 of "I Miss You" is the first time he was kissing and smiling at the same time, as he was always crying in previous kiss scenes.
The lamb skewer-loving Korean idol, unspoken plans to break into China
As for movies, Park Yoochun expressed that he does not feel the rush to appear in movies, and that it wouldn't be late for him to do so even after he turns 30 or 40. This is because his acting would be more mature by then, and there would be more roles that are suitable for him. As for the genres of movies that he likes, Park Yoochun said that he thought about trying out horror shows but gave up because he was afraid, that shooting love stories are tiring and take up too much energy, and that he really wants to try shooting a war film, for example having 500 horses gallop towards him…a descriptive example with such strong imagery that the media in attendance started laughing. When talking about the delicacies in China, Park Yoochun said that lamb skewers are his favourite, causing the audience to break out into laughter once again.
With his coming to Beijing and holding this press conference so early in 2013, his plans to break into the China market are unspoken yet obvious. Park Yoochun said that he had only gone to Shanghai for his 2012 fanmeeting tour, and was busy with the shooting of "I Miss You" after that, having no chance to come to Beijing. He said that Beijing was very cold, but was actually not as cold as Korea. Time was passing by so quickly that he himself didn't realise that it had been a year and a half since his last visit for the JYJ concert tour. Currently, he has received a lot of requests to appear in Chinese films and dramas, and that he is still looking for a suitable piece. We hope that in the near future, we will be able to see more of Park Yoochun in China.
Source : [ent.163.com]
Translated & Shared by : dongbangdata.net
Momma's Source: sharingyoochun.net
Share This