[TRANS] 130304 JYJ Sweat Profusely In Korea To Prepare For Their Concerts In China And Japan
JYJ's Kim Jaejoong, Park Yoochun and Kim Junsu have swapped in their break, the first one they've had in a while, to sweat profusely and prepare for their overseas activities in China and Japan.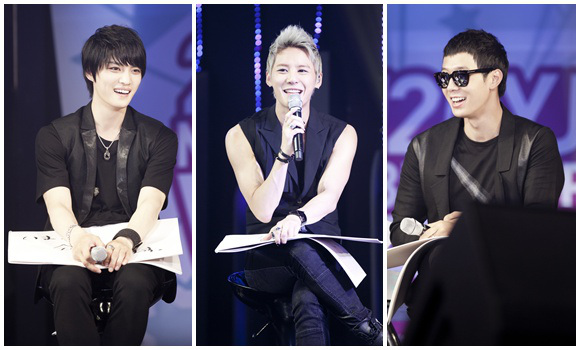 JYJ will be holding three concerts from the 2nd to the 4th of April at Tokyo Dome in Japan. The reason why the concert is so meaningful is that this is JYJ's first official Japanese event in four years since their lawsuit against Avex began after the agency unilaterally cancelled their contract.
Because of this, Japanese fans have had to fly to Korea to watch JYJ perform for the past four years. JYJ have repeatedly expressed their sorrow about the fact they could not repay their Japanese fans for their endless support by visiting them in their own country. But now that things have wrapped up nicely, JYJ will be making a show-stopping comeback at Tokyo Dome, 'the stage of dreams'.
Currently, the members are working harder than ever in Korea to prepare for their upcoming concert. Not only does Kim Jaejoong have the upcoming Tokyo Dome concert with his fellow members, but he will also be holding the third concert of his Asia Tour in Shanghai, China on the 17th of this month. This will be the third country he visits since Korea in January and Thailand in February, and the concert is expected to be an opportunity to showcase Kim Jaejoong's new charm as a rocker. Because of this, Kim Jaejoong is busy preparing for JYJ's concert and his own solo concert.
A representative of JYJ's agency C-JeS Entertainment asked for support for JYJ as he stated to eNEWS on the 3rd that, "The members of JYJ are working harder than ever to ensure a great performance."
Source: [enews24]
Translated & Shared by: dongbangdata.net
Momma's Source: dongbangdata.net
Share This