[Trans] 130320 [Queen Of Ambition] Though Jung Yunho Has Left, The Love Of His Fans Remains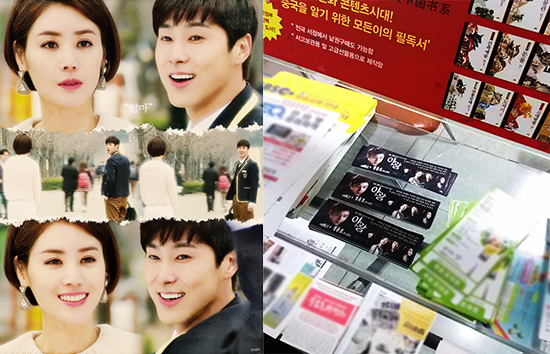 Though Jung Yunho has left 'Queen of Ambition', his fans' passion still remains with the drama.
Jung Yunho's departure from the SBS' Monday-Tuesday drama 'Queen of Ambition' was marked by his character(Do Hoon)'s unfortunate death during the 18th episode. After Do Hoon's death, various online communities and fanclub sites were flooded with messages of disappointment and encouragement.
Do Hoon's sorrowed smile as he dreamed of calling out "Mom!" before his death had the fans' hearts in pieces. His fans created a 'Baek Do Hoon Resurrection Committee' and made a request to resurrect the character but have now accepted that his death was necessary for the drama's development. They are now continuing their love for 'Queen of Ambition', as though they are following the wishes that were expressed by Jung Yunho in his final letter for the drama.
Jung Yunho opened up on the drama's homepage and stated, "I was able to learn so much from this precious experience," and "Please love 'Queen of Ambition' till the very end." The 'resurrection' committee has been turned into a 'mourning' committee, and the fans have stepped up to act as the honorary ambassadors of 'Queen of Ambition'.
Some fans have printed out flyers and handed them out in the street while others have printed thousands of promotional bookmarks and placed them in bookstores around Seoul. There wasn't a sudden decrease in viewer ratings either, something that had been a concern for the drama since the death of Do Hoon. Considering the fact that the majority of Jung Yunho's fans are teenagers and women in their 20s and 30s, a drop in viewer ratings was expected, but most fans have continued their support for 'Queen of Ambition'.
The dedication of Jung Yunho's fans has been garnering attention since the drama's press conference. They sent a total of 20 tons of rice wreaths and have also sent lunch boxes to the cast and crew. The fans' also paid for promotional advertisements on buses and the subway, and provided the cast and crew with winter clothes to battle the cold weather.
Their consideration was greater than the love that has ever been seen for an idol star, and the reason for such dedication was to show the fans' anticipation and support for Jung Yunho's decision to work on his acting career.
As though he sensed the support of his fans, Jung Yunho worked hard and received high praise for his improved and sophisticated acting, and many are now curious to see what drama he will take on next.
Though rookie actor Jung Yunho will now return on stage as U-Know Yunho, 'the king of the stage', his fans' love for 'Queen of Ambition' lives on.
Source: [SBS News]
Translated & Shared by: dongbangdata.net
Momma's Source: sharingyoochun.net
Share This