[Trans] 130701 [JYJ MW] Part 1: 'Innovative Economy' Creating a Future Paradigm For The Entertainment Industry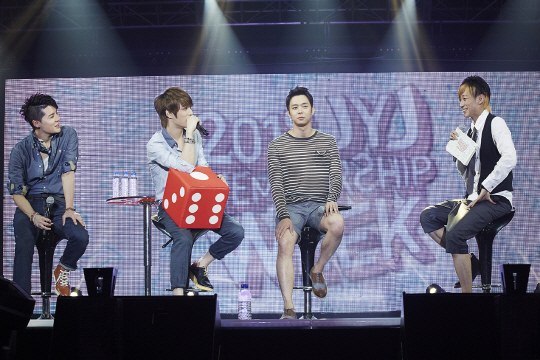 A moment from the free fanmeet of the JYJ fan expo
JYJ's fan expo came to a close on the 30th of June.
JYJ's fan expo, titled the 'JYJ Membership Week', was held for a total of four days from the 27th of June at SETEC in Seoul. A total of 17,000 fans from Korean and Japan visited the event. CEO Baek Chang Joo of C-JeS Entertainment, JYJ's agency, stated, "We've created a space for artistes and fans to meet. Because we've wanted this event to be a long-running event from the moment it was first created, we tried to make it a place for JYJ and their fans to connect with each other."
JYJ's fan expo consisted of a 'Media Facade Square', that showcased a large fountain that played JYJ's music and a cafeteria that provided free drinks, a 'JYJ Art Gallery' that showcased various artwork created by JYJ and included a space for fans to create their own, and a 'Concert Hall' that showed JYJ's April Tokyo Dome concert to their fans for free. Photo zones were created for fans to take photos with JYJ, and 10 photo sticker booths were set up for fans to create special memories at the event.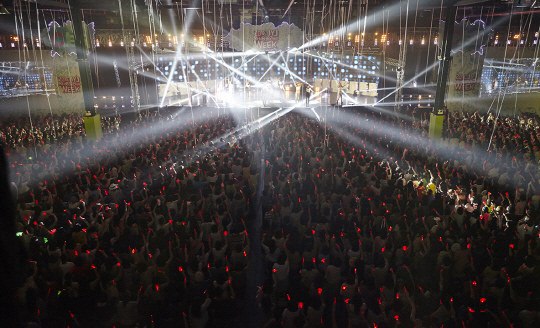 A moment from the free fanmeet of the JYJ fan expo
The reason why JYJ's fan expo, which has entered its second year, has garnered so much attention is because it has brought forth a new paradigm that differs from the fanmeets, concerts and handshake events of other entertainment agencies. They haven't stopped at just singing and acting, but they have also utilized artwork and technology to create various attractions for fans. Last year, they opened up the possibilities of commercializing IT technology by having the members of JYJ appearing through hologram videos. JYJ's Membership Week has created a new term 'fan expo' and created attractions that showcase everything under the sun.
JYJ's fan expo, which has shifted the paradigm in the industry, has also caused secondary economic effects. 4,000 Japanese fans arrived at Incheon and Gimpo Airports from the 27th of June to attend the expo. A representative of Lotte Hotel said, "Because of the depreciation of the Yen and the worsening relations of the two Koreas, the number of Japanese tourists in Korea has markedly decreased. The fact that 4,000 Japanese fans came to Korea to see JYJ is a surprising and welcomed event for the tourism industry." Experts of the industry estimate that JYJ have brought an economic effect of 10 billion Won to Korea, if one considers the fact that each Japanese fan spent approximately 2 million Won each during their trip to Korea for the fan expo."
C-JeS Entertainment stated, "We have tried to reduce the commercialization of the fan expo as much as possible by providing services such as the fanmeet and concert hall free of charge, as well as not selling any MD goods," and "We tried to create a space for JYJ to connect with their fans more closely through the JYJ Membership Week."
Source: [edaily]
Translated & Shared by: dongbangdata.net
JYJFantalk Source: sharingyoochun.net
Share This