[Trans] 130701 [JYJ MW] Part 2: What's Different… The Fusion Of Science Technology And Service
– A large-scale introduction of new technology through the fanmeet and art gallery… second movers emerge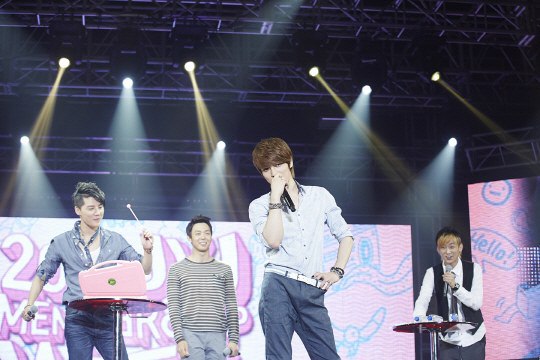 A moment from the free fanmeet of the JYJ fan expo
The '2013 JYJ Membership Week' fan expo created new economically innovative contents, using JYJ's singing and acting as its basis. At the center of it lies IT technology and the mindset of creating fan service that communicates with fans. Aya (Female, 24), who participated in the event, said, "I liked the JYJ art gallery because it showcased artwork created by the members and allowed us to connect with their emotions. The various artwork on display made me feel like they were with me the whole time." A blogger who visited the fan expo commented, "I walked through a tunnel of screens that expressed JYJ's words of welcome through videos. I didn't know this at the time because I was lost in the videos, but an audio track was played to sync with the video messages."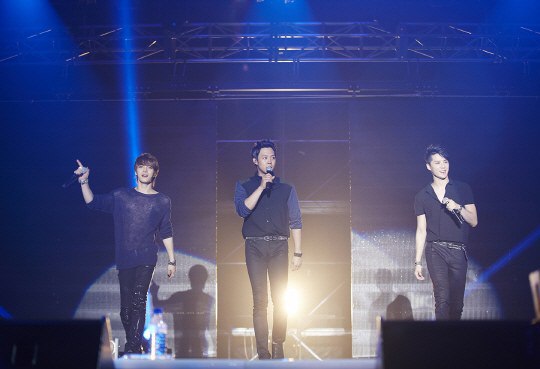 A photo of JYJ singing during the JYJ fan expo
# vs Concert
JYJ's fan expo screened footage from JYJ's recent concert instead of holding an actual concert. Fans could attend a screening by reserving a seat beforehand at the ticket booth, and the concert was shown up to nine times a day at the Concert Hall section of the expo.
The concert hall had a large screen, surround sound system and an extravagant lighting set that mirrored an actual concert stage. Footage from JYJ's Tokyo Dome concert in April was shown, giving Korean fans an opportunity to watch a 10,500 Yen (approximately 124,000 Won) Japanese concert for free.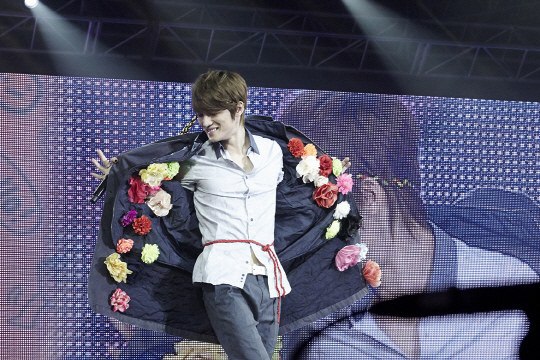 JYJ's Kim Jaejoong plays a game with his fans during the JYJ fan expo
# vs Fanmeet
A fanmeet with JYJ was held on the 29th and 30th for members who had been chosen through a lottery system. JYJ met, talked and played games with 4,000 fans across the two days. JYJ did their best in all of the programs to create happy memories for their fans, and added performances by the group and each member to complete a fanmeet that lasted over two hours. JYJ stated, "We're so happy that this has become a festival for us to have fun and create new memories, and we'll repay your love with more activities. We truly feel the love you give us, and we hope this will become an opportunity for the fans to feel our sincerity."
JYJ's fans met JYJ for free, without having to pay an entry free or buy MD goods. Through a gift coupon service, fans were able to exchange coupons for drinks, snacks, and various goods. Fans (official members) who were unable to attend the fanmeet will be sent a free DVD of the fanmeet and the event did not accept any gifts or wreaths.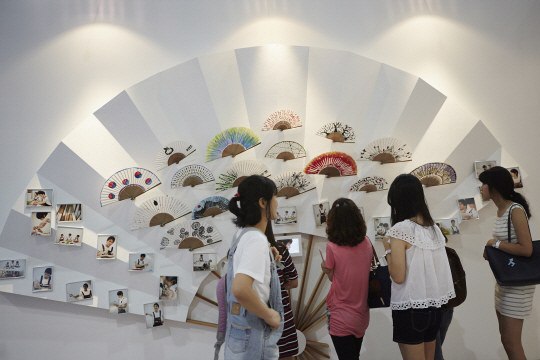 A picture from the art gallery at the JYJ fan expo
# vs Art Gallery
JYJ's fan expo featured a Media Facade (A fusion of 'Facade' and 'Media', in which media is heightened by LED lights shone on the side of walls)and an art gallery that featured artwork created by the members of JYJ.
The main feature of JYJ's fan expo was that JYJ participated from beginning to end, starting with the planning process. Taking JYJ's opinions into consideration, the fan expo incorporated a humanistic aspect to IT technology and large-scale projects. In order to create a space to connect with fans, JYJ featured artwork they had created themselves through a 'JYJ Art Gallery' to add a more analogy aspect to their expo.
Lee Jae Eun, the head of the PR department of C-JeS Entertainment, stated, "The JYJ fan expo's economically innovative ideas have become a hot topic in the entertainment industry, even becoming a model for other Korean entertainment businesses to follow," and "It has given us the opportunity to create a new fanmeet culture that is being called a brand new kind of Hallyu service by fans."
Source: [edaily]
Translated & Shared by: dongbangdata.net
JYJFantalk Source: sharingyoochun.net
Share This