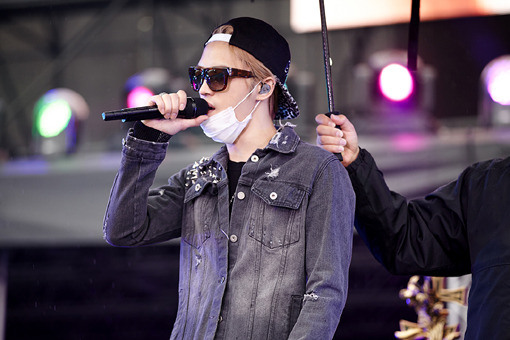 Singer Kim Jaejoong has released a photo from the rehearsal of his Yokohama Stadium concert in Japan.
C-JeS Entertainment stated, "Kim Jaejoong kicked off his Yokohama concerts yesterday and met with 30,000 fans. We've released a photo of Kim Jaejoong meticulously checking over his equipment and sound system during a rehearsal for his concert yesterday."
They continued to state, "Kim Jaejoong's concert was a great hit from the start. People began queuing for MD goods from the early morning, and despite the drizzling, cold weather, 30,000 fans gathered in the concert venue to send Kim Jaejoong their support. Kim Jaejoong showcased his explosive live skills with a live band and a 14-man orchestra, and he was able to converse with his fans in fluent Japanese without a translator, much to the delight of his fans. He prepared two special additions to his set list, singing 'Saigo No Ame' and 'Konayuki' as a surprise gift to his fans."
'Konayuki' is a piece by the popular Japanese rock group 'Remioroman' that became popular when it was played during the Fuji TV drama '1 Liter of Tears'.
Kim Jaejoong kicked of his [Kim Jaejoong 1st Album Asia Tour] on the 2nd and 3rd of November in Seoul, and is currently performing in Japan, the second destination of his tour.
On the 15th, Kim Jaejoong performed songs from his first album and mini-album, as well as five Japanese songs, 'Saigo No Ame', 'Glamorous Sky', 'Konayuki', 'Kesho' and 'Ultra Soul', with a live band.
Meanwhile, Kim Jaejoong will meet with another 30,000 fans on the 16th at the Yokohama Stadium and will then move on to perform in Taiwan on the 23rd of November.
Source: [sports donga]
Translated & Shared by: dongbangdata.net
JYJ Fantalk Source: dongbangdata.net
Share This