The Busan showcase of 'Sea Fog' had the crowds roaring in delight.
The team of 'Sea Fog' gathered in Busan on the 15th of July to hold an impromptu greeting and showcase, and was met with loud cheers from the public.
Busan's Gwanganli Beach in Haeundae was already filled to the brim with people even before the arrival of Kim Yoon Seok, Park Yoochun, Lee Hui Joon, Moon Sung Geun, Kim Sang Ho and Han Yaeri. Kim Yoon Seok said, "I'm so happy to be coming back to my hometown for this event. Thank you so much for coming to see us despite the weather."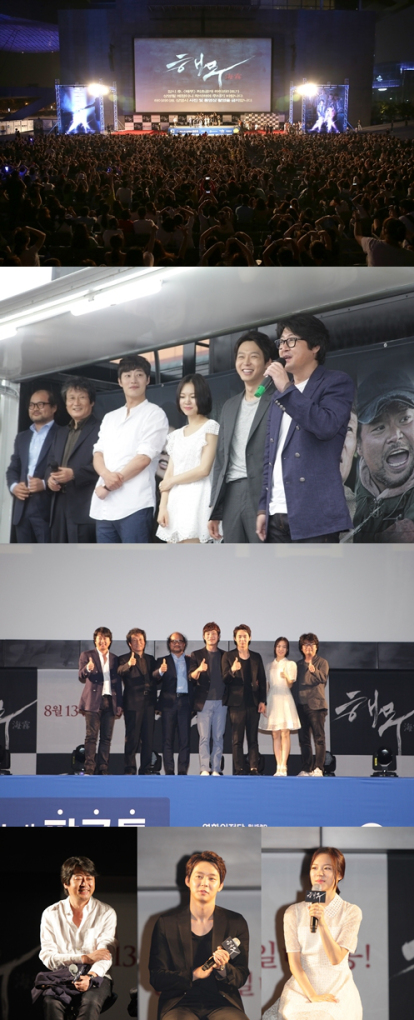 The showcase had the actors holding a quiz about their upcoming movie and giving movie tickets to audience members who got the answers right. As this was the first time that the cast was meeting the public, it was later said that everyone had a great time during the event.
The official showcase that was held from 8pm was attended by over 3,500 people. The showcase was aired live on Daum, showing the cast members giving honest answers about their experiences. A never-before-seen teaser for the movie was aired, much to the delight of the audience. Signed posters were handed out, pictures were taken, and Park Yoochun gave surprise hugs to a limited few.
Curiosity about Park Yoochun and Han Yaeri's intimate scenes as Dong Shik and Hong Mae peaked as the night went on.
Director Shim Sung Bo stated, "Thank you so much for coming to such a meaningful event. Forget about the summer heat with our great production," while Kim Yoon Seok said, "'Sea Fog' is a sexy movie you can't take your eyes off of. Don't miss out!" Meanwhile, Kim Sang Ho said, "In word one, I would describe 'Sea Fog' as 'real'. It's such a realistic movie."
Meanwhile, Bong Joon Ho's 'Sea Fog' is the story of six sailors who find their ship filled with stowaways. The movie will be released on the 13th of August.
Source: [newsen]
Translated & Shared by: dongbangdata.net
JYJ Fantalk Source: dongbangdata.net
Share This