JYJ Preparing To Release New Album in 2013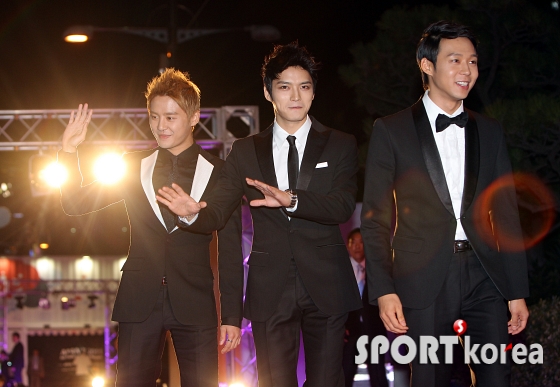 Photo Credit: As Tagged
JYJ members Kim Jaejoong, Park Yoochun and Kim Junsu are scheduled to make their way to Los Angeles in the United States soon. They have been confirmed that they are meeting with local officials regarding their next album.
With JYJ beginning preparations for their new album, the members will find themselves quite busy as they are in the middle of their solo and drama activities. Following the end of their solo activities, the trio are planning to take a well-deserved vacation.
Kim Jaejoong is currently starring in the MBC drama, "Dr. Jin," while Kim Junsu is set to perform in Hong Kong on August 26th as part of his 1st solo Asia tour, "XIA 1st Asia Tour Concert."
JYJ's agency, C-JeS Entertainment, said, "Ever since JYJ released its worldwide album with Kanye West, it's been aiming to hold a full world tour. Its aim also means that it's leaning toward working on an album in the U.S. market. That's why the members visit officials in the country and invite them to JYJ's world tour concerts."
Many officials have been confirmed to have been invited to JYJ's South American concert by C-JeS.
Meanwhile, JYJ is set to record their new album and release it early next year. Kim Junsu will be undergoing his first world tour, visiting North and South America, and Europe. He will also release his English single, "Uncommitted," which was composed by Sony Music composer, Bruce 'Automatic' Vanderveer.
Source: enews24 and enewsworld
Credit: Uni c/o KoreaBoo.com
Shared by/Our Source: KoreaBoo.com
Momma's Source: dbskalways.wordpress.com
Share This