[TRANS] 121002 Scene From Tohoshinki's Changmin's Movie Debut In Japan Revealed!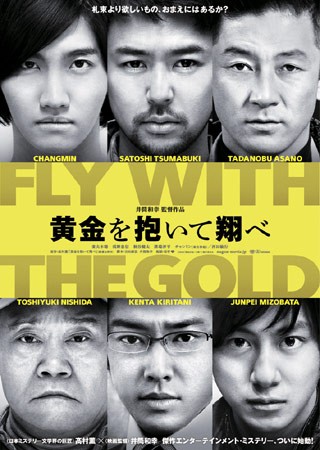 A scene from the movie "Fly With The Gold", starring Tsumabuki Satoshi, Asano Tadanobu, Kiritani Kenta, Mizobata Junpei and Tohoshinki's Changmin was released on 2 Oct, in commemoration of "Tofu Day". The scene features Cho Lee Han (played by Changmin) working part-time at a tofu shop.
"Fly With The Gold" is based on the crime-mystery novel by Takamura Kaoru, and depicts the story of 6 men who try to steal 240 billion yen worth of gold bullions from a bank. It stars Tsumabuki, and is directed by director Kazuyuki Izutsu.
In this movie, Changmin plays the role of Cho Lee Han, who appears to be a university exchange student who works part-time at a tofu shop. He is a mysterious figure, who joins the group as a bomb expert, and whom Koda (Tsumabuki) calls "Momo". The story depicts how the pasts that each of the characters carry with them causes them to influence the process of the burglary in various ways. The character "Momo", which Changmin plays, is an undercover spy for his country, and carries past which he cannot reveal to the group. He ends up being the target of people who are after his life.
Director Kazuyuki Izutsu explained that Changmin had been decided for the role of Momo because they "wanted a fresh and real casting". As it is his first appearance in a Japanese movie, we anticipate the new side of him that will be shown under the guidance of director Kazuyuki Izutsu.
Source : [Pia via yahoo japan]
Translated & Shared by: dongbangdata.net
Momma's Source: dongbangdata.net
Share This