[TRANS] 130121 JYJ Look Back On The Last 1000 Days Through A Magazine, "We Didn't Give Up. We're Happy"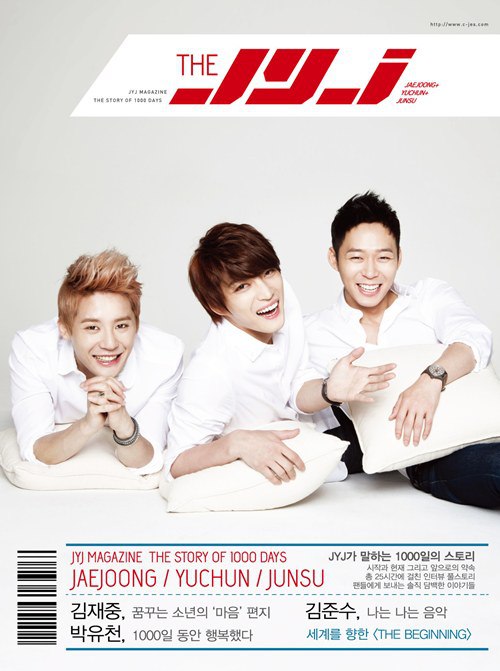 A magazine that details the last 1000 days of JYJ will be released in Korea and Japan at the same time.
On the 21st of January, C-JeS Entertainment stated, "The first edition of 'The JYJ', the interview magazine that commemorates the 1000th day since JYJ was created, will be released simultaneously in Korea and Japan. It contains records of their worldwide English album, their world tours, and their individual activities in musicals and dramas in chronological order."
The magazine is set to be more meaningful as JYJ have concluded all legal battles that they had previously been engaged in as they came to an agreement with their former agency SM Entertainment last November and recently won their lawsuit against their Japanese agency AVEX.
A representative of C-JeS stated, "JYJ fought a long legal battle for three years against their unlawful contract. Not only have they won their freedom, but they have also provided their juniors with a better environment to pursue their activities in," and "But because of unseen external forces, JYJ's activities have been restricted and JYJ talked about their feelings about this in their interviews as they took the effort to find new challenges to take on instead of giving up or backing down."
C-JeS' CEO Baek Chang Joo stated, "For a long time, we have worked hard to walk down our own path, and we have changed obstacles into opportunities to widen the spectrums for each member, making them leaders of other K-POP stars as they have successfully completed two world tours and made their mark in the drama and musical industries," and "We wanted to make a book that will be dedicated to the fans who have shown their love and support for the members, no matter how hard things got."
The magazine 'The JYJ' was created through a total of 25 hours of interviews with the members, and will be a total of 139 pages with a special DVD. During their interviews, the members were said to have teared up as they talked about 2009, and all the people who gave them strength during those troubled times.
JYJ stated, "Though there have been hard times in the past 1000 days, we can say that we were truly happy. We worked harder than ever and though there were unexpected obstacles in our way, we were able to grow that much and learn. We wanted to share the story of the past 1000 days that were happy, from the moment we woke up till the moment we fell asleep."
JYJ's interview magazine 'The JYJ – First edition, recording 1000 days' will be released in Korea and Japan in early February and can be bought at the C-JeS store.
Source: [wstarnews]
Translated & Shared by: dongbangdata.net
Momma's Source: dongbangdata.net
Share This