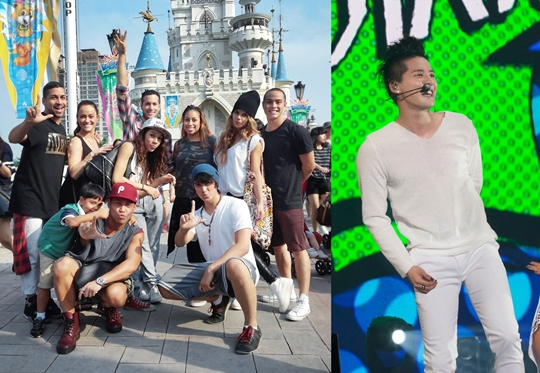 JYJ Junsu's friendship with his US dance crew has become a hot topic.
On the 6th, JYJ's Junsu posted a photo on his personal Twitter account of his US dance crew enjoying themselves at an amusement park.
The uploaded photo shows his dance crew enjoying themselves with a childlike glee, and their gratitude to Kim Junsu for providing them with such a gift is clearly shown on their faces.
Regarding this, a representative stated, "The dance crew, who have worked with some of the greatest pop stars in the US, were completely immersed in Kim Junsu's wholesome after-party ideas. With a small break in between his Seoul and Busan concerts, Junsu took everyone in his dance crew to an amusement park and paid for their tickets."
He continued to add, "After his Seoul concert on the 4th, they all went to a bowling alley to participate in a friendly match. Pitting the US against Korea, the dancers couldn't hide their wonder at Kim Junsu's bowling skills. Though the dance crew were powerful, they were not enough to beat the Korean staff members in the opposing team."
Jeri Slaughter, who is in charge of the dance crew, stated, "Junsu's happy energy makes everyone around him happy. I don't think there's another artiste in this world who would take his dance crew bowling after a concert. It was a great chance for us all to bond and become more energetic. Korean amusement parks are amazing. The rides are quite spectacular and thrilling. I'd like for us to pour all this energy into the Busan performances.
XIA Junsu will be continuing his Asia Tour at the Busan BEXCO on the 10th and 11th of August.
Source: [reviewstar]
Translated & Shared by: dongbangdata.net
JYJFantalk Source: dongbangdata.net
Share This