[TRANS] Originally 111025 Jaejoong's Mannish Apartment – Feature In Maison Korea, Nov 2011 by Juggling The Clouds
Through the drama "Protect The Boss", which finished airing recently, JYJ's Kim Jaejoong began activities as an actor not only in Japan, but also in Korea. Amidst his busy schedule, he also completed the interior renovation works and moved into his new home. Most of the finishes and structures were left in their original state as each room was styled to give a different atmosphere, and the space has been decorated to give it a manly style.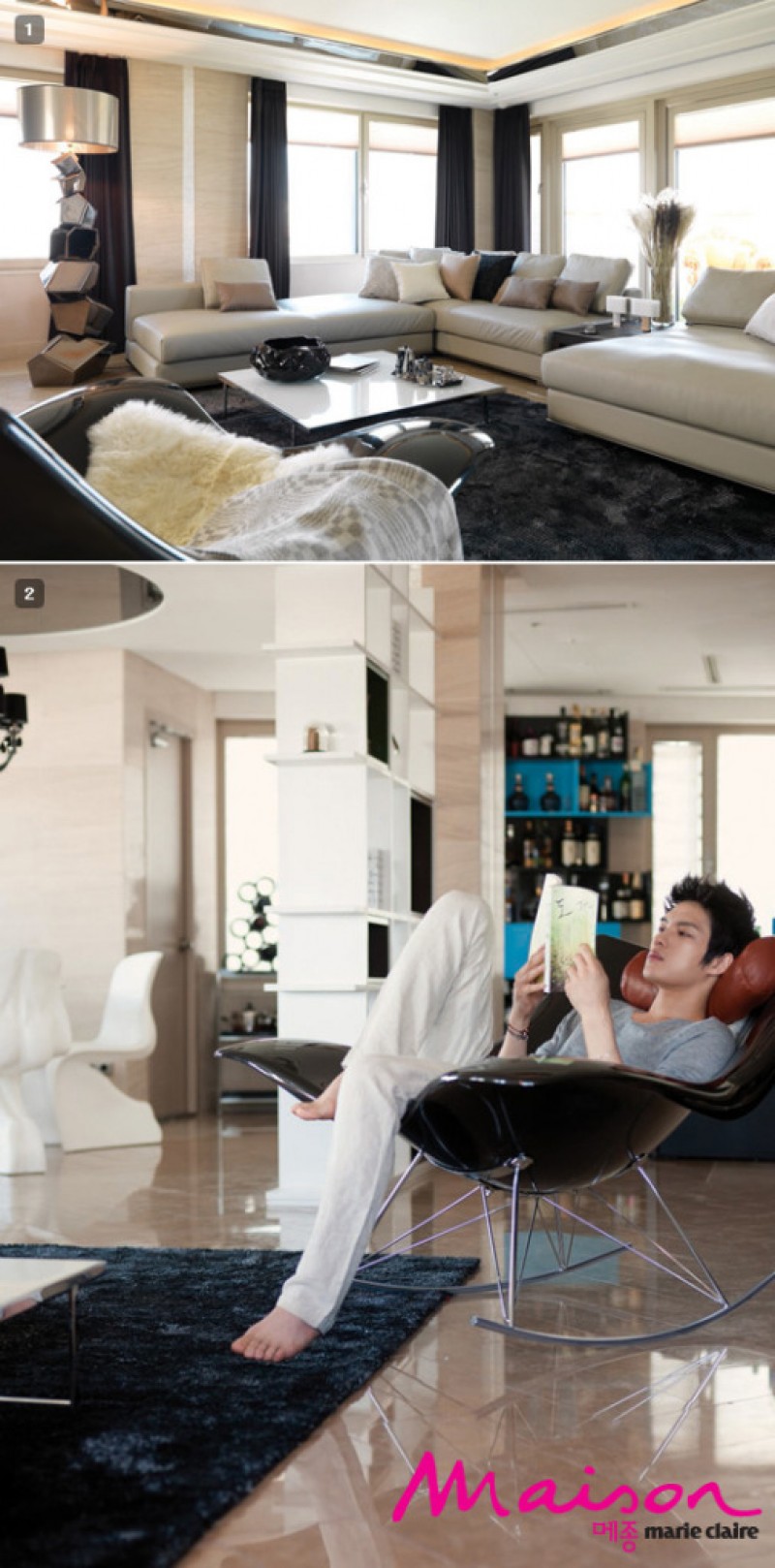 "I want 'home' that is not like (a regular) home. I would like it if it could look like one of those loft houses in New York, even if it is not actually a penthouse and does not have a loft. It would be great if it could have an urban look, while having an fun touch to it…" This is how Kim Jaejoong described the home that he wished for, while making his request to the interior designer. At first, the editors had their reservations when they heard from the designer that Kim Jaejoong's manager had proposed a photoshoot and interview in (Jaejoong's) home, since there were uncertainties as to whether Kim Jaejoong, as an idol, was suitable for Maison's concept. But after hearing of the concept that he wanted for his interior design, the editors were eager to introduce his home. For the month after that, his home underwent interior renovation. Aside from leaving the wall and wood fixtures in the corners of the rooms as they were, and without changing the original structure of the house, the "home dressing" operation was as time consuming and required as much thought as would go into an entire facelift renovation. Wall finishings were changed into marble, vibrant chandeliers were used and classic elements were also added to the design. Working on the basis of the concept that Jaejoong wanted, all the elements that might become obstructive were removed, giving an entirely new look to the house. The key of the interior design was to make it an interesting space with a manly touch. Even with his schedule packed with filming for his drama, Jaejoong had meetings with the designer, reviewed and made changes to the proposed designs in detail, and also chose the furniture and displays together with the designer. It can be seen how interested he is with interior designing, to the extent that he would visit interior display shops whenever he had breaks in his filming schedule to purchase displays. Thus, the result is a home with a totally different style in every space, with a mannish-look and an interesting vibe to it. We spoke to the owner of this house, Jaejoong, about the topic of "home".
What about this house attracted you and made you move in?
After the World Tour, the JYJ members all made plans to shift homes. This place was recommended to me by Yoochun's mother after she had seen it. It is convenient in terms of transport, and a lot of sunshine gets in since the window are large. I also liked the structure of the house. I felt that every space could be decorated in the way I wished.
It must not have been easy, having to shift houses and settling the interior design the house because of your filming schedules. Is there a reason why you pushed through with it despite being so busy?
I thought that since I had plans to live in this house on a long-term basis, it would not do if it was not renovated. Also, if I did not set my mind on renovating before I moved in, I would just continue living as it was, so I did not want to delay things any further.
The photographs of your home that you released via Twitter became hot topics in TV programmes and newspapers right? Have you always had an interest in interior designing? Do you often go shopping for interior displays?
Rather than having an interest in interior designing, I think it would be more accurate to say that I have an emotional attachment to my own space, because I am the type which stays at home when I am not working. I did the decorating of my previous home myself. I focused on using black as the main colour to present a simple design with a manly touch. As I am not a professional, rather than deciding on a specific concept or style, I just bought what I liked based on my mood at that time. Aside from having to go overseas a lot, there were many performances and photoshoots, so I did not have much personal time, and did most of my shopping for design materials in Korea. I frequented department stores, the Nonhyeon-dong Furniture Street and even furniture shops in Cheongdam-dong. I sometimes also go to Samcheong-dong, shops along the highway, and underground shopping streets. If I drive past and see a furniture shop that I like, I would stop the car and turn back to have a look.
Is there a reason for not directly doing the designing yourself this time but rather requesting for an interior designer to do it?
If it is a professional, the details would be different for sure, so that is what I was anticipating the most. After hearing that it would be done together with Maison magazine, and after having discussions with the professionals, knowing that the images (of the home I want) that have been flashing over and over in my mind will be realised in a more sophisticated fashion makes me happy.
Although there is already the concept of a loft house in New York, which is different from other houses, do you have more concrete ideas about what you would like your house to be like?
I thought about how it would be nice if it could be a "travel destination" home. Before concerts, when there are no shoots, I like to stay at home. During this time, I compose at home until it is time for recording. As compared to having a home with the same concept throughout, I prefer each space to have its own theme. This way, even at home, it can feel like you are travelling. It's very interesting. This is what I requested from the designer.
What do you think about the completed home? Are you satisfied?
Yes, I am very satisfied. The scenes in my head, the ones I thought "It would be great if it could be like this", have all been realised. It also feels more like I am living in "Bangkok". Hearing my family, the members, friends who come from Japan and the staff from the company say things like "The space in the house has been made used of very well, the furniture and the small displays are very beautiful", it makes me feel very satisfied. But more than any other time, the time when I feel most satisfied is when I am alone, the bedroom is cozy and classy, the living room is comfortable too, I can have fun in the recreation room, and I can concentrate in the work studio…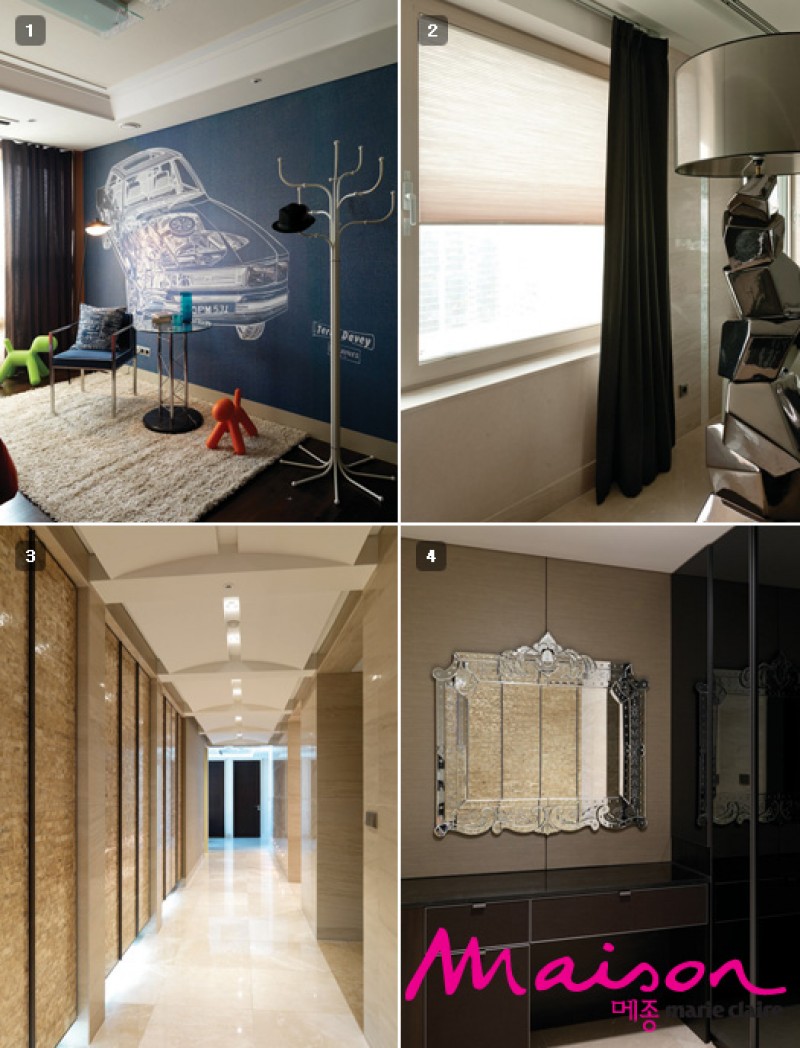 1. This is the guest room set aside for family and friends who visit the house. Using design elements such as the mural wallpaper with the illustration of a car and a Fritz Hansen's Series 9 coat stand, the room is given an entirely new look.
2. Both Honeycomb blinds and curtains have been used in Jaejoong's house, which has many windows. Milder colours were chosen for the fabric blinds to make the house brighter, while darker colours were chosen for the curtains to make the room feel calmer.
3. The corridor that is visible once one steps through the door. To the left is the bedroom and living room, and connects to the kitchen, and to the right is the work room, guestroom and recreation room.
4. A Neoclassic style mirror displayed, which links the classic elements which were originally present, with the newly added modern elements.
Which is the space that you like the most?
The recreation room. I really put a lot of thought into this room. I wanted it to be a place where my friends could play games when they came, a place where I could entertain myself with comic books, and also a place to collect all the little display items I purchase overseas. After telling the designer the overall colour scheme and sofa style, the designer made a few proposals with the concept of a "playroom". The one I liked the most among those has become reality now. Also, the furniture displayed is also very unique and interesting. It is also very economical to make use of design pieces which will increase in value as time passes, together with the custom-made pieces of furniture which I like.
Is there something you learnt for the first time during the designing of your home?
In the process of designing my home, I feel that drawing up the plans at the beginning is the most important. Knowing the special characteristics of the house, deciding on a concept, then coming up with concrete design plans is the most important process. Similar to fashion, design requires not overly mixing colour together. Rather than choosing items spontaneously upon seeing something you like, it would give better results to follow the original plans.
There must have been many difficulties, having to coordinate the interior designing while busy with work.
With the filming for the drama coming to the end, work was really busy. Also, there were many cases where the designer would first discuss (the design plans) with the company, before the company passed the discussed proposal on to me. I am not one to do things carelessly, so if I suddenly had inspirations for designs when I got home at night after filming, I would tell the designers as well. During the filming of the drama, once there were breaks, I made it a point to visit interior designing shops. Although there was not enough time, there were many things I wanted to do… That was the most difficult part. Even so, after the renovation of the house was completed, I really felt that it was well done. After all, what meaning is there to a very nicely decorated house if I do not like it.
You mentioned that you mostly stay at home when there is no work, what do you do to pass time when you are resting at home?
When I'm resting I watch movies in the living room, or read a book, or drink a bit of alcohol while sitting beside the table in the balcony, things like that. There are many things to do at home. If I go into the work room to compose, then it won't be easy for me to come out. If family members of friends come over to visit, I often cook.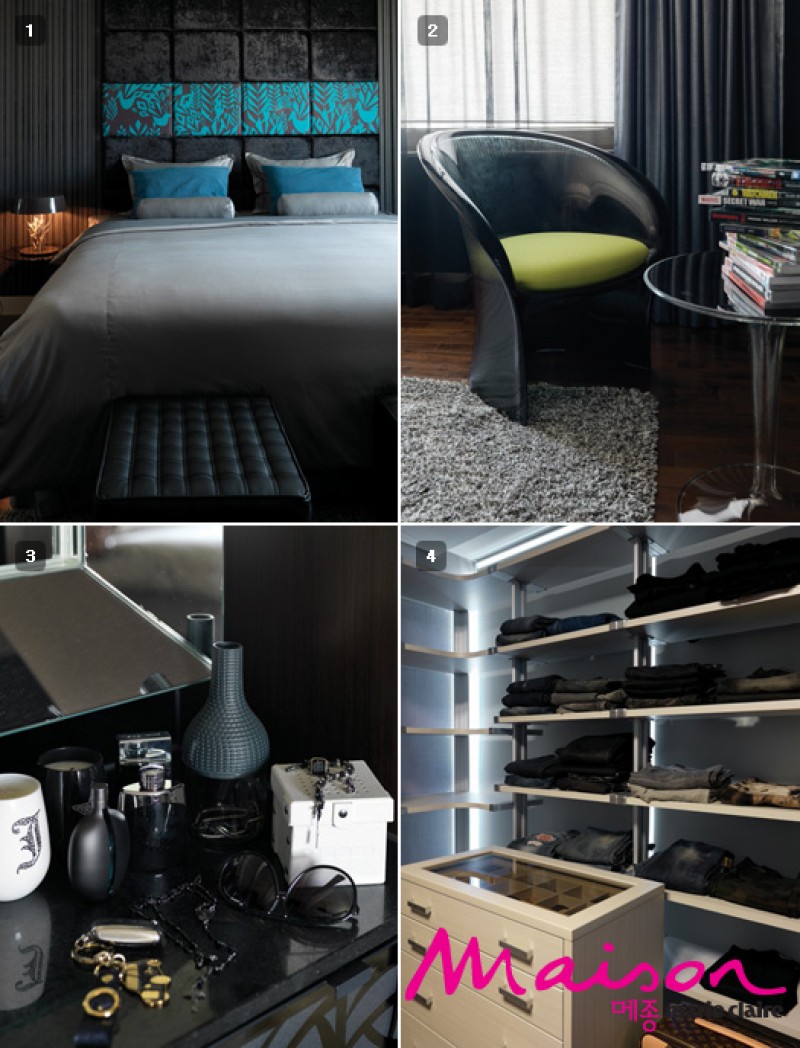 1. Using achromatic colours like black and grey as main colours and blue as the supplementary colour, a bedroom that is stylish with a manly touch is presented.
2. During (his) rest days, he enjoys reading many comic books at home. The comic books on the round table were newly purchased by Jaejoong the day before the shoot.
3. Jaejoong's accessories on the dresser in the bedroom.
4. Dressing room. Large walk-in closet, designed to allow many clothes and accessories to be arranged in here.
Cooking scenes also appeared in "Protect The Boss", are you really good at cooking? Looking at the kitchen, it seems the pots and pans are all arranged systematically. The cooking utensils seem quite professional.
It's because I've lived in a dormitory since I was young. Cooking for the members and preparing it for them, I would be in a good mood seeing them eat well. Recently I have been going to the supermarket to shop once I have time, and I often cook even when I am alone. I think its because I like cooking itself, that I enjoy this process of learning something new no matter what I make. Although "Cha Mu Won", whom I play in the drama, has a character rather different from mine, but there is a part (of him) that is similar to me, and that's cooking.
Aside from cooking, what other hobbies do you have? Looking at your book shelf, you seem to have read many books.
Recently I've been totally immersed in riding bicycles. I ride my bicycle everyday. When I ride, my mind clears up, it feels rather great. I've also been working hard to read as much as I can. If I visit a book store, I would go to the bestsellers section and see what books are popular, then use that as a basis to choose what books to buy. I also receive a lot of recommendations from my friends.
As expected from a person who makes music, you really have many CDs. Do you listen to a lot of music wherever you go?
Be it in the living room, the balcony, the bedroom, the work room, I listen to music everywhere. I think music is what connects everything else of me together. When I compose, I listen to music for 1 to 2 hours, while I think. This way, the lyrics that I could write or ideas for the tune seem to appear in front of my eyes in an instant.
How do you feel now that the interior renovation is done, and the drama has finished broadcasting?
To put it in one line, I'm happy. This drama is the first production I appeared in in Korea. I was really lucky to have met many good people through a good drama, and to have been able to learn through living the life of Mu Won. There is a line which Mu Won said in the last scene that I cannot forget. It was a line where he proposed by saying,"I will become an upright businessman. That path may be difficult, but are you willing to walk it with me?" I still remember it as it is very similar to my situation in real-life.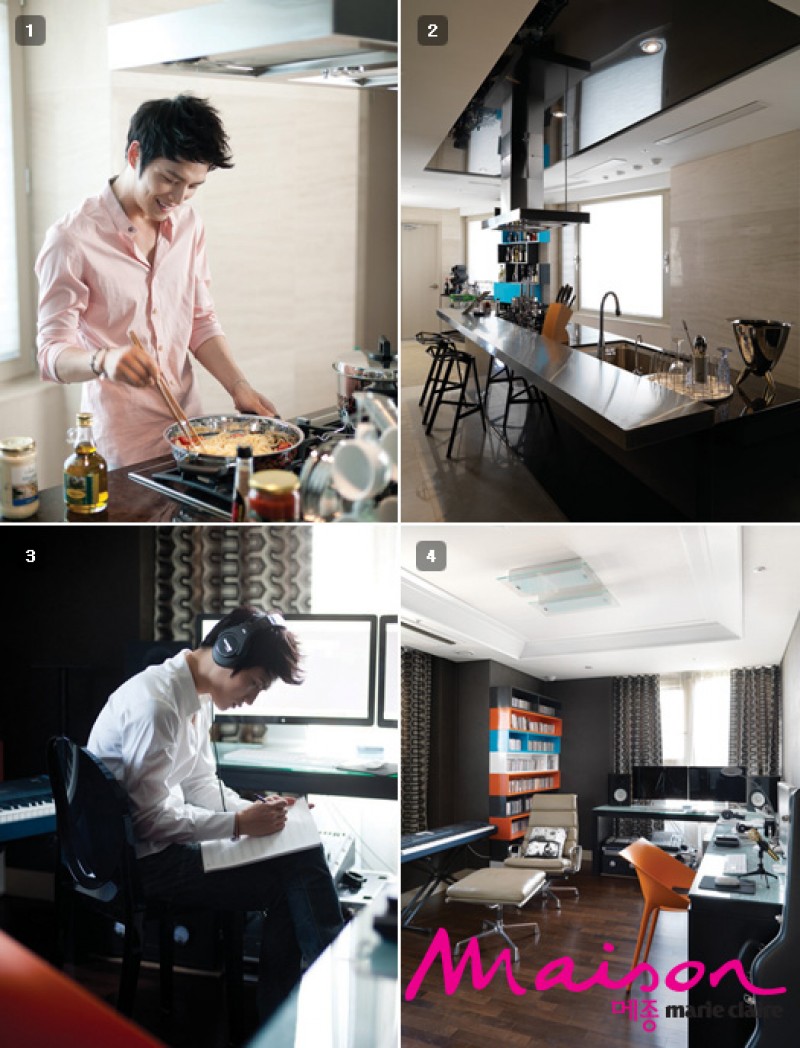 1. Jaejoong who says he enjoys cooking, in the midst of making Aglio Olio. Jaejoong is well equipped with the preferred cookware used by those who enjoy cooking.
2. The fully-equipped kitchen.
3. Jaejoong working in the new work studio. He says does recordings and writes songs in this work room.
4. The many gadgets he uses for writing songs. A colourful CD rack and a chair displayed complement the otherwise dull work room.
If you have any plans coming up, please tell us about them. We are also curious about your future plans for the interior design of your home.
The big changes that need to be made now are just some household items, and the fabrics, to make them more suited to the change in seasons. I am planning to buy a piece of furniture or small display item that will not fade in colour even after being used for a long time, but instead increase in worth. When the November issue of Maison is released, I would be preparing for the Spain concert. (We will be) performing in Spain on 29 Oct (2011) and for the first time in Germany in November. When I return to Korea after the Europe tour, I'll be writing new songs while taking a break, and charity events are also being planned. Seeing us do our part for charity could perhaps be a good influence on people? As an actor, I would like to try different roles. In the process of participating in the production of the drama this time, I'm more immersed in the charms of acting. For now I would like to focus on JYJ's live performances, and hope to encounter more good productions in future. Ultimately, my dream is for JYJ and our fans to be happy together. Although it may be rather abstract, but that is the biggest dream I have.
Although he had a headache from not getting any sleep the previous night due to his filming schedules, and carried out the photoshoot in his new home while on medication, Jaejoong had no complaints throughout the shoot. If he were to go into the room to rest without overseeing the process, he would not be able to go over the interior display items with the designers. Even after filming has ended, and all the staff are asleep, Jaejoong says he would rather cycle than sleep. One can see his energy from this. "Jaejoong is a client that can listen to the opinions of the designer and communicate well. He has an interest in interior designing, and also has a lot of good ideas. Also, rather than single-mindedly pushing for his own ideas, he would rather trust the designer's opinions." Park Chang Min, the chief of the designing team also said that this has been an enjoyable experience for the designers. The editors saw the effort that Jaejoong has spent and the emotions that he has for his new home throughout this month of partaking in the design works of his new home. I have personally seen Jaejoong decline special treatment often offered to artists, should the concept or quality of the designs not meet his expectations. "Looking at my home which I like, I could laugh out by myself, I'm really happy. Thank you everyone for working so hard." Even though he was tired, this was his reply to the editors who thanked him for the shoot. From his short greeting, for the first time, one could feel that "home" and "interior design" are things that give him a lot of happy energy. Here, as a member of Maison, this thought makes me feel proud.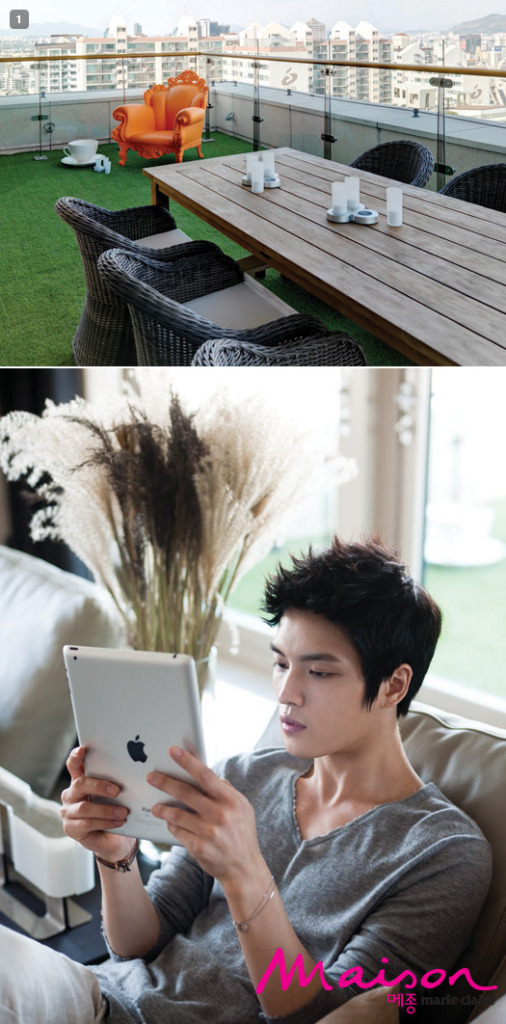 1. One of the highlights of Jaejoong's home is the spacious roof terrace. The terrace floor is laid with artificial grass, and an outdoor table and rattan chairs are displayed, giving a natural look. At the same time, an arm chair and candle stands give an interesting touch to this space.
(T/N: Some parts omitted for brand names and specific display item names)
Source : [BaiduTVXQ + Maison Korea]
Translated & Shared by : dongbangdata.net
Momma's Source: dongbangdata.net
Share This