Dedicated to Our Xiahzart.
 
Newly discovered Mozart piece performed
VIENNA (AP) — A piano work experts attribute to Mozart as a child prodigy was performed for the first time Friday since it was found last year after apparently being left in an attic for centuries.
The lively 84-bar passage — marked "allegro molto," or "very quick" — was played Friday on the composer's piano in a room of his Salzburg home by virtuoso Florian Birsak.
The Mozarteum Salzburg Foundation, which staged the event, said the manuscript was found last summer as part of a 160-page book of handwritten piano music as the musty attic of a house in Tyrol was being cleared from centuries of detritus.
Part of a collection of notes from a village music teacher, the book was dated 1780 — 24 years after Mozart was born — and the manuscript played Friday bore the name "Del Signore Giovane Wolfgango Mozart," Italian for "Mr. Wolfgang Mozart Jr."
Musicologist Hildegard Hermann-Schneider, who traced the composition to Mozart, said the fact that other pieces in the book were known works by Mozart's father, Leopold, strengthened the case that the work was genuine. As well, Leopold Mozart often used "Wolfgango" when labeling works written by his young son, she said.
From the style of the composition, Hermann-Schneider attributed it to Mozart at around the age of 11.
The piece exhibits "a series of components that are found repeatedly in other Mozart piano works," said the Mozarteum in a statement. "Judging by the current level of knowledge, it thus has to be a genuine sonata phrase from Mozart."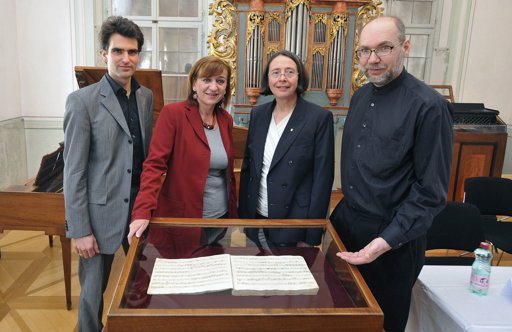 Pianist Florian Birsack, Beate Palrader, member of the provincial government of Tyrol, Music scholar Hildegard Herrmann-Schneider and Urlich Leisinger, leader of the of the International Mozarteum Foundation in Salzburg present sheets of music, recently identified as a composition by Wolfgang Amadeus Mozart, during a press conference held by the research department of the International Mozarteum Foundation in Salzburg, Austria, Friday, March 23, 2012. The previously unknown piano piece from Mozart was discovered in Tyrol in Austria. The Mozart Foundation in Salzburg says that the piece was found in a hand written music book from 1780. (AP Photo/ Kerstin Joensson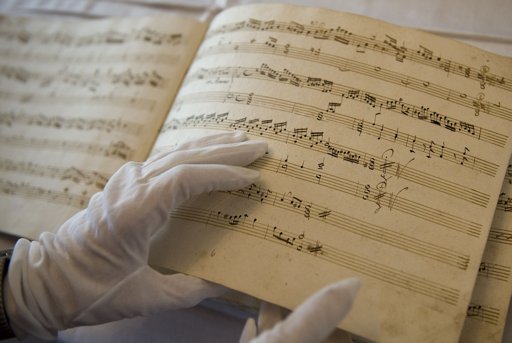 Sheets of music, recently identified as a composition by Wolfgang Amadeus Mozart, are presented during a press conference held by the research department of the International Mozarteum Foundation in Salzburg, Austria, Friday, March 23, 2012. The previously unknown piano piece from Mozart was discovered in Tyrol in Austria. The Mozart Foundation in Salzburg says that the piece was found in a hand written music book from 1780. (AP Photo/ Kerstin Joensson)
Ivory's Source: http://music.yahoo.com/news/newly-discovered-mozart-piece-performed-163638228.html
Share This