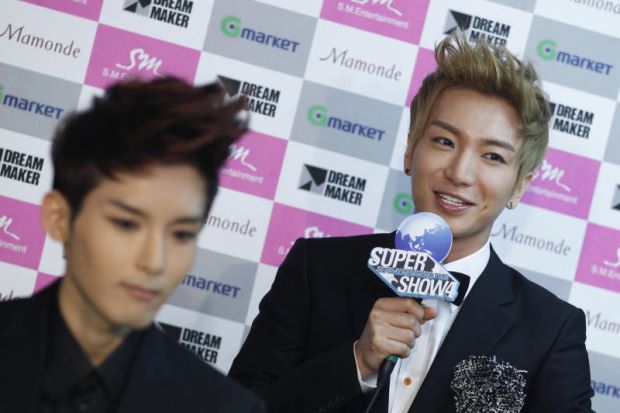 Leeteuk (right) stands behind fellow Super Junior member Ryeowook as he answers a question during a news conference before their concert 'Super Show 4' in Seoul, South Korea, on Nov 20, 2011. Tragedy hit Leeteuk as three of his closest family members were found dead at home. – Reuters
Suicide is believed to be the cause of deaths.
THE year got off to a tragic start for the family of K-pop group Super Junior leader Leeteuk. His father and grandparents were apparently found dead at home in Seoul this morning.
In what was earlier reported to be a car accident that killed the three, their deaths were later linked to suicide.
According to the allkpop website, police and fire department officials indicated that a note was found at the house where the bodies were discovered. The note is said to have been written by Leeteuk's father, Park Yong-in.
Allkpop today quoted one of the officials as saying: "At 9.26, we were dispatched to one apartment in the jurisdiction of Dongjak (a district in Seoul). When we arrived at the scene, all three had already passed away."
The official revealed that the grandparents were found on the bed while Park was found hanged, says allkpop.
Their deaths are strongly believed to be linked to suicide.
Police are looking into medical records to confirm that Park was suffering from depression. Allkpop says Leeteuk's father had been caring for his Alzheimer's-stricken parents, Park Hyun Suk and Chun Kyung Tae.
Leeteuk, 30, whose real name is Park Jeong-su, has been on mandatory military service since October 2012. The singer-songwriter-actor immediately took leave to return to the family upon receiving the devastating news.
He and his sister Park In Young, as well as other family members and friends, are now gathered at the wake at the Korea University Medical Center (Guro Hospital) funeral parlour.
Singapore's The Straits Times says that fellow Super Junior member Ryeowook was hosting his regular radio programme when the news broke and stayed on to finish the show even though he was clearly grieved by the news. The programme, Super Junior's Kiss The Radio, is aired live and has live video feeds as well. The cameras were turned away from Ryeowook during the show.
Shindong, another member of the group, also has a regular radio show, ShimShimTapa. The production team for the programme left a message on their official Twitter today saying: "Today, Shindong's ShimShimTapa will be broadcast under special DJs VIXX's N and Baek Ah Yeon. There will be no viewable radio."
It says that friends and fellow singers also sent messages of condolences through social media. 2AM's Jo Kwon tweeted: "Please stay strong Leeteuk hyung (elder brother). May the deceased rest in peace."
2PM's Chansung simply wrote: "Stay strong Leeteuk hyung."
Doojoon of B2ST wrote: "The hyung who is always smiling, who greets us with a smile even today without fail. That makes my heart hurt more. With respect, I hope the deceased rest in peace."
UKiss's Soohyun tweted: "Your heart must be in so much pain. With respect, I hope the deceased rest in peace. Have strength, Leeteuk hyung."
Super Junior's management agency, SM Entertainment, has appealed to the public to allow the family to grieve in peace.
credit: The Star Online+People
Picture Credit: Reuters
JYJ Fantalk Source: www.thestar.com
Share This