[Vid+Trans] 120118 Tohoshinki LIVE TOUR 2012 ~TONE~ Concert – Homin Talk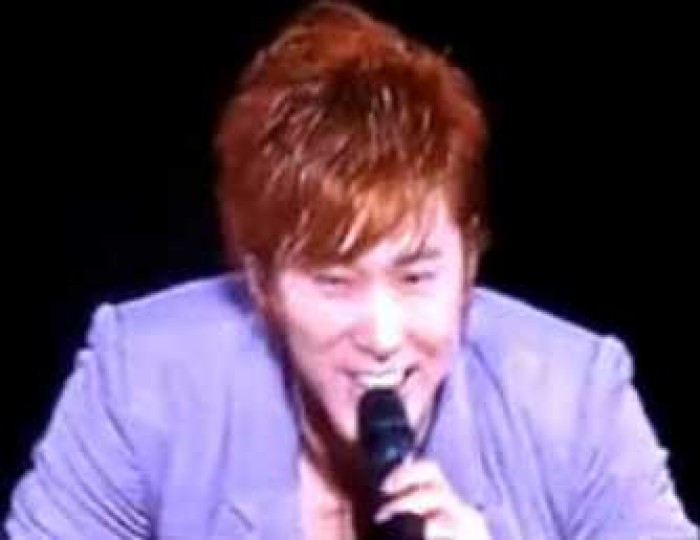 credit: 爱允无限 謝謝!
YH: I have something I would like to tell you.
It's been a year since we restarted our activity last January.
I have way wanted to hold our solo live tour.
At last we can have the first day of it now. Thank you very much.
We have so different speechless thoughts and emotions.
During the time we was not able to have activities as THSK,
you have waited and supported us.
In order to convey our gratitude to you,
we have prepared much for this tour very hard.
CM: Exactly. We always want to convey you our gratitude through our song and performance.
By the way, the new album also has some songs to carry such emotions.
For example, Shiawaseiro no Hana, which we sang just now.
And…
YH: Another one, Deep!
CM: (unclear)
Well, what do you think, you all?
In fact, it has passed about first half of today's live.
Have our gratitude got conveyed to you? Because the live got passed
around half of it, around half of our gratitude has got to you? (unclear)
Sometimes, I can see some people who shows "I got your thought! (patting his chest)".
Then it is ok if those people leave us.
Well, then, we would like to convey all our gratitude to you Next…(unclear)
YH:Then now a little *sat down* (unclear) We are doing at ease, right?
CM: You may do a little too easily.
YH: Coming to this age, I get tired soon.
CM: You are nervy to say, "This age."
The men like Sam-san, who is directing this tour, can say "coming to this age".
YH: But really, fatigue is coming little by little. Seriously it is awful here and there.
C'mon. CM, you should sit down.
It doesn't matter if you settle down.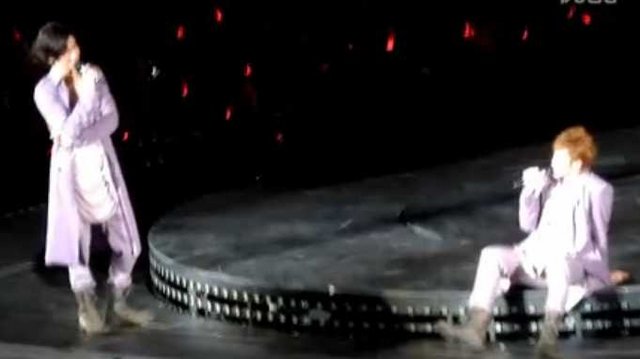 Something (unclear)CM's adlibbing (unclear)
CM(unclear)You have done as I taught.
YH: uhm, what's the most impressing since we started our activity by two of us?
CM: … yeah…it is suddenly. We went really lots of countries actually.
Well, We were really busy. It can be said that was so hard physically. It was tough. We had terribly have flights.
Even so, we enjoyed ourselves much.
YH: Where did we go? France, Paris and Japan. But Japan doesn't feel abroad.
CM: You say that again!
YH: I got better at this *gesture like talkative*
CM: That one in America was…
YH: HI, EVERYONE!
CM: *…* It is Japan here, so speak in Japanese. Don't say anything unnecessary.
YH: Yes, sir. I'm sorry.
CM: Er, and LA in America, Las Vegas! (unclear) various show (unclear)
We went to New York for the first time last year .
And we went to Spain for photo session. Passionate Spain, isn't it?
Spain is famous for great food, soccer and clubs, I heard.
YH: You went to the club?
CM: I hoped, but the manager stopped me. Unfortunately I didn't.
Whatever I don't want to have such a talk.
YH: Yes.
CM: What have we been talking about?
YH: We have said 3 countries!
CM: Yes! Ok. Singapore, aaand *pointing a fan* Yes, Beijing and Shanghai in China.
YH: Nihao!
CM…
YH: Everyone said (unclear), See?
CM: Probably they thought it might be greeting. They know.
YH: This is about all I know, too.
CM: Taiwan! Yes, I know.
fan: screaming. (T/N sorry I don't know why.)
CM:Huh!? Huh!?
Because you all say together at once, I cannot understand it at all.
Someone alone. Tell me.
fan: Kyaaaaa.
CM: Then, let's not. Now I cannot remember, though, anyway, we went around lots of countries. Watching around those countries, (end)
Thanks @cc9095 for letting me know this video.
trans by: 858bati
Momma's Source:sharingyoochun.net
Share This