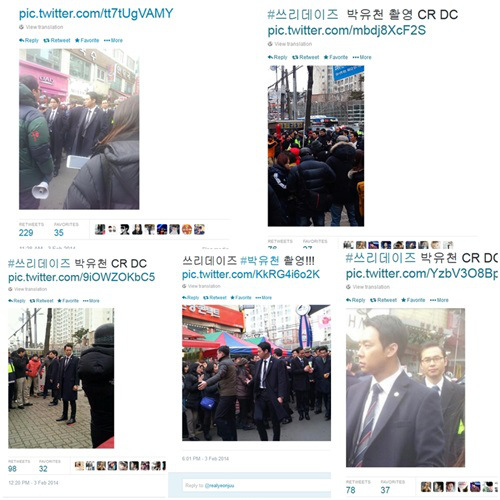 Actor Park Yoochun was spotted in Incheon's Moraenae Market.
Goldsum Pictures released a photo that showed Park Yoochun visiting Incheon's Moraenae Market to play the role of Han Tae Kyung in the upcoming SBS Wednesday-Thursday drama 'Three Days'.
The photo is a collection of responses by netizens on social networking systems. In the photo, Park Yoochun can be seen exuding an aura of charisma. It was later said that Park Yoochun's surprise visit to the market had people flocking to the area to catch a glimpse of the star.
One netizen who saw the photos said, "I didn't know that he was going to be there, but I just followed the crowd and it felt like a dream. I ran there as soon as school was over."
Meanwhile, 'Three Days' is set to begin airing after 'You, Who Came From The Stars', and will bring together Park Yoochun and Sohn Hyun Joo. It is set to begin airing in March.
Source: [mydaily]
Translated & Shared by: dongbangdata.net
JYJ Fantalk Source: dongbangdata.net
Share This