..Norway gunman deems killings "atrocious,"necessary"
By Victoria Klesty and Gwladys Fouche | Reuters – 4 hrs ago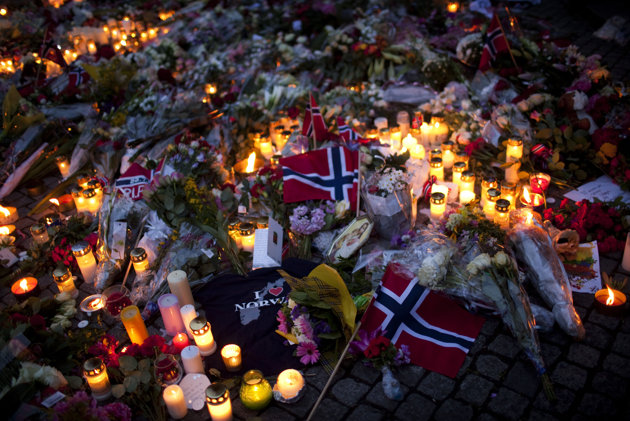 SUNDVOLLEN, Norway (Reuters) – A Norwegian right-wing fanatic who killed at least 92 people believes his acts were atrocious but necessary, his lawyer said, as the nation mourned victims of its worst attacks since World War Two.
Police were investigating on Sunday whether a possible second gunman took part in the shooting massacre and bomb attack on Friday that traumatized a normally peaceful Nordic country.
But they also defended the speed of their response to the second stage of the attack when the gunman was able to shoot unchallenged for a prolonged period on an island outside Oslo, shortly after the huge bomb went off in the capital.
In his first comment via a lawyer since he was arrested, 32-year-old Anders Behring Breivik expressed willingness to explain himself in court at a hearing likely to be held on Monday about extending his custody.
"He has said that he believed the actions were atrocious, but that in his head they were necessary," lawyer Geir Lippestad told independent TV2 news, adding that his client admitted to both the shootings and the bombing.
Police said Breivik gave himself up to armed officers when they arrived on the small island of Utoeya in a lake about 42 km (26 miles) northwest of Oslo where at least 85 people were gunned down. Most were teenagers and young adults attending a summer camp of the youth wing of Norway's ruling Labor Party.
About 650 people were on the island when the gunman, wearing a police uniform according to witnesses, opened fire. Police said it took them one hour to stop the massacre from when they first received information about the shootings, the worst by a single gunman in modern times.
RESPONSE TIME
"The response time from when we got the message was quick. There were problems with transport out to the island," police chief Sveinung Sponheim said, defending the delay.
Witnesses said the gunman picked off his victims at will, forcing youngsters to scatter in panic or to jump into the lake to swim for the mainland.
Breivik was also arrested for the bombing in Oslo's government district that killed seven people hours earlier. Norway's toughest sentence is 21 years in jail. Police believe Breivik drove to Utoeya after the explosion in the capital.
Survivors, relatives of those killed and supporters planned a procession to mourn the dead at Sundvollen on Sunday, near the island where the massacre took place.
King Harald is due to attend a service in Oslo cathedral, a few hundred meters (yards) from where a bomb devastated government buildings including the offices of Labor Prime Minister Jens Stoltenberg.
Police said they were seeking several missing people and the toll could rise to 98, in the worst case.
Lippestad, speaking late on Saturday, did not give more details of possible motives by Breivik.
Breivik hated "cultural marxists," wanted a "crusade" against the spread of Islam and liked guns and weightlifting, web postings, acquaintances and officials said.
A video posted on the YouTube website showed several pictures of Breivik, including one of him in a scuba diving outfit pointing an automatic weapon.
"Before we can start our crusade we must do our duty by decimating cultural marxism," said a caption under the video called "Knights Templar 2083" on the YouTube website, which took down the video on Saturday.
A Norwegian website provided a link to a 1,500 page electronic manifesto which says Breivik was the author. It was not possible to verify who posted the video or wrote the book.
"Once you decide to strike, it is better to kill too many than not enough, or you risk reducing the desired ideological impact of the strike," the book said.
IMMIGRATION
Norway has traditionally been open to immigration, which has been criticized by the populist Progress Party, of which Breivik was a former member. The Labor Party, whose youth camp Breivik attacked, has long backed multi-culturalism to accommodate Norway's different ethnic communities.
About 100 people stood solemnly early on Sunday at a makeshift vigil near Oslo's main church, laying flowers and lighting candles. Soldiers with guns and wearing bullet-proof vests blocked streets leading to the government district.
"We are all in sorrow, everybody is scared," said Imran Shah, a Norwegian taxi driver of Pakistani heritage, as a light summer drizzle fell on unusually empty Oslo streets.
"At first, people thought Muslims were behind this," he said, referring to some initial suspicions that the attacks might have been by Al Qaeda, perhaps in protest at NATO-member Norway's role in Afghanistan or Iraq.
Some terrified survivors of the shooting rampage said bullets came from at least two sides.
"We are not at all certain" about whether he acted alone, police chief Sponheim said. "That is one of the things that the investigation will concentrate on."
"I heard screams. I heard people begging for their lives and I heard shots. He just blew them away," Labor Party youth member Erik Kursetgjerde, 18, told Reuters.
"I was certain I was going to die," he said. "People ran everywhere. They panicked and climbed into trees. People got trampled."
Breivik, tall and blond, owned a farming company called Breivik Geofarm, which a supply firm said he had used to buy fertilizer — possibly to make the Oslo bomb.
Home-grown anti-government militants have struck elsewhere in the past, notably in the United States, where Timothy McVeigh killed 168 people with a truck bomb in Oklahoma City in 1995.
The district attacked is the heart of power in Norway. But security is not tight in a country unused to such violence and better known for awarding the Nobel Peace Prize and mediating in conflicts, including the Middle East and Sri Lanka.
(Additional reporting by Walter Gibbs, Anna Ringstrom, Henrik Stoelen, Terje Solsvik, Patrick Lannin, Johan Ahlander, Wojciech Moskwa, John Acher and Ole Petter Skonnord in Oslo, William Maclean in London; Writing by Alister Doyle; Editing by Matthew Jones/David Stamp)
Credit: yahoo news
Momma's Source: yahoo news
Share This