[Vid] 111025 JaeSu At Barcelona El Prat Airport
Credit: Susispooky
Momma's Source; sharingyoochun.net
Share This
NEWS] European JYJ Fans Crash Server As Berlin Concert Tickets Are Made Available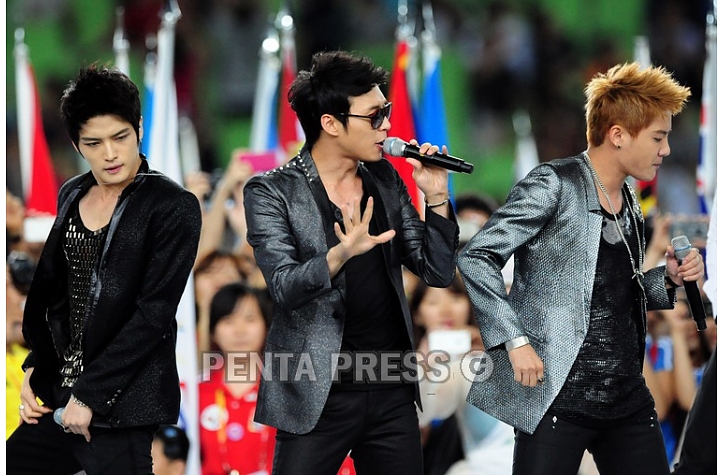 Group JYJ's European Tour Is Currently Receiving Explosive Attention From K-Pop Fans At The Site
JYJ has already surprised concert staff by selling 80% of the tickets for their 5000 seat solo concert at Poble Espanyol in Spain in just three days. The group has again proved their European popularity with German fans crashing the server for the ticketing site as soon as tickets went on sale for their concert in Berlin to be held in November.
An associate of the concert has revealed his sentiments about this occurrence with, "Since this event is not even a project concert of a giant entertainment company, but a solo concert, this situation is that much more startling. Once again, I came to realize the great popularity of K-Pop in Europe as well as the high popularity of JYJ."
Regarding the European tour, JYJ had also stated, "Since this is the first European tour we're having, we've had some fearful feelings, but we thank people for their attention and we'll prepare a hot concert (for them). The Spanish ambassador in Korea thanked us for performing in Spain and gave us encouragement. Upon hearing that the ticket sales are flourishing like this, we're full of excitement for the concerts we'll hold with the European fans."
JYJ has also been invited for the Spanish manga fair that gathers over 60,000 people that come to attend the event. Through the performance in this festival, JYJ plans to present their exclusive charms to the Spanish press and the west European public.
credit: soompi
shared by: iXiahCassie
Momma's Source: iXiahcassie
Share This