[TRANS] 130423 JYJ's Kim Junsu Is Seen Singing For His Cousin's Wedding, 'Amazing Vocal Talents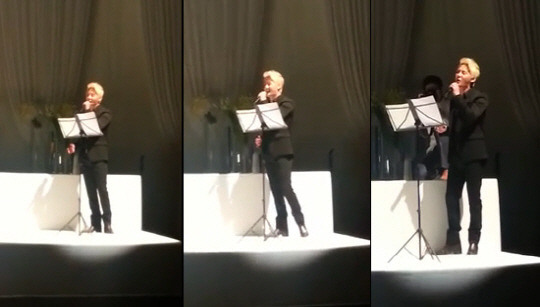 JYJ's Kim Junsu has become a hot topic for showcasing his explosive vocal talents at a wedding ceremony.
A video was recently uploaded on YouTube with the title 'Even Wedding Songs Can Become a Work of Art with Junsu'.
The video shows Kim Junsu singing his own interpretation of H.O.T's 'Blessing' at his cousin's wedding, giving his all for his relative's celebrations.
With blond hair and a clean-cut black suit on, Kim Junsu drew attention for his wedding guest attire as well. His proportional body and small head had him landed in the 'Problematic Guests (for drawing too much attention)' list.
He stole the eyes and ears of everyone at the wedding with his high notes and clear voice. He looked at his cousin with tear filled eyes and conveyed as many emotions as he could in his voice, giving everyone at the ceremony goosebumps.
A photographer who was at the wedding said, "I had always thought he was good at singer, but seeing him 1cm in front of me, I could see that he was so different from all the other singers and artistes I had seen at countless concerts and events and I could feel all the emotions he conveyed through my entire body," and "His voice really got to me as he looked as his cousin with tear-filled eyes and so many emotions in his singing. I found myself forgetting about my camera and applauding him afterwards."
Source: [sports chosun]
Translated & Shared by: dongbangdata.net
Momma's Source: dongbangdata.net
Share This