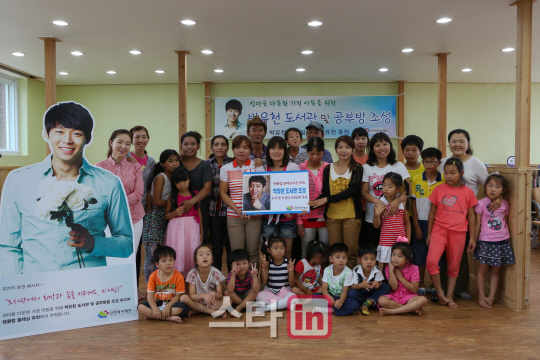 'Blessing Yoochun', the fan community of singer cum actor Park Yoochun (JYJ) took part in a meaningful donation drive to celebrate their third anniversary.
'Blessing Yoochun' was created in September of 2010 and is a fan community for fans who are 30 and above. They have been participating in various charity activities since their creation to express the love for Park Yoochun through meaningful charity work. Starting by collecting 10 million Won for Park Hyun Bin, who couldn't have his burns treated because he did not have enough money to pay for his surgery three years ago, 'Blessing Yoochun' has been financially helping children with cancer, restoring study rooms for children in low-income families and providing children in financially unstable youth centers with free lunches.
The donation drive to commemorate their third anniversary has collected five million Won for a library and study room for children of interracial families in Jangsan-myun, an island in the Jeolla Province, and will be added to the 8,800 books and various school supplies that have been collected by the members of 'Blessing Yoochun'. The small island-town will give the library the name, 'Park Yoochun Library'.
This is not all. 'Blessing Yoochun' also provided Yoon Seo Gyun (5 years old) with three million Won for heart surgery, and the 'Gana-an Our Home', which is facing financial trouble with a large-scale admittance of newborn babies, with four million Won in cash and various school supplies as well. This brings their total to 12 million Won in cash, 8,805 books and one million Won's worth of school supplies. The total amount that the fan community has collected over the past three years for those in need is 100 million Won. 'Blessing Yoochun' even collected enough funds to support Park Hyun Bin's surgery this year, the second since their first-ever donation three years ago, proving that they are interested in staying in touch with those they have helped.
Park Yoochun is currently preparing for his role as 'Dong Shik' in Bong Joon Ho's movie 'Sea Fog', which will start filming on the 30th of this month.
Source: [edaily]
Translated & Shared by: dongbangdata.net
Momma's Source: dongbangdata.net
Share This