Posted in News
[TRANS] 110608 JYJ's Japanese Charity Concert Ends In Great Success
Posted on June 10, 2011
by melodiamuse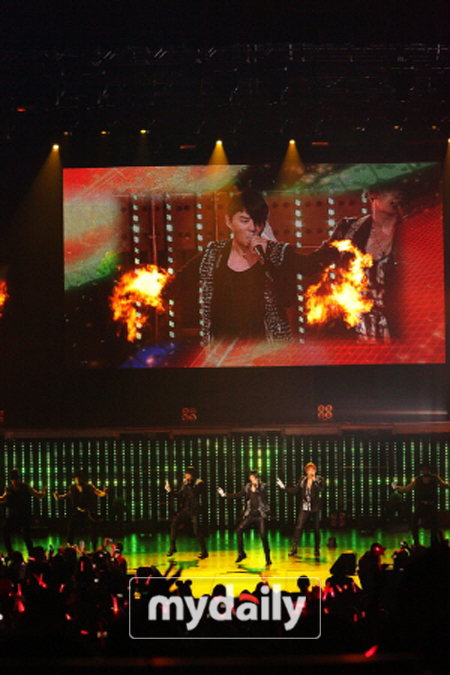 JYJ's Japanese charity concert ended in great success.
Having already donated 600 million Won for the victims of the earthquake that shook the nation of Japan in March, JYJ held a successful charity concert on the 7th at 2pm and 7pm with 20,000 fans at the Yoyogi National Stadium in Tokyo.
This was JYJ's first Japanese concert since Avex put a halt on all JYJ activities last October so the two-hour performance was meaningful for both JYJ and their Japanese fans.
Hiroko Saito(25), a fan who attended the concert, stated, "I was nervous because I thought the concert was cancelled due to Avex's obstructions. I was so happy to see JYJ performing in Japan." Yuko Yoko(37) stated, "I received a great amount of courage from JYJ who were sincere in their worries throughout the concert of the victims of the earthquake. I will continue to support JYJ's future activities."
CEO Baek Chang Joo of C-JeS Entertainment stated, "The fans played a big role in holding this concert," and "Though others tried to stop us from using certain concert venues, they were unable to break down the passion of the fans who support JYJ. Please think of this performance, not only as a charity concert, but the signal that signifies the start of JYJ's Japanese activities."
JYJ, who successfully ended their charity concert in Japan, will be greeting Korean fans at the Busan Sajik Indoor Gymnasium on the 11th and 12th of this month.
JYJ's popularity continues to soar as their music essay 'Their Rooms, Our Story' was deemed the best seller of celebrity-written books of this year by Kyobo Books.
Source: [mydaily]
Translated & Shared by: dongbangdata.net
Momma's Source: dongbangdata.net