[Trans] 130426 A 'Rooftop Prince' Cafe Appears In Tokyo, Shibuya 'As Expected, It's Park Yoochun

!'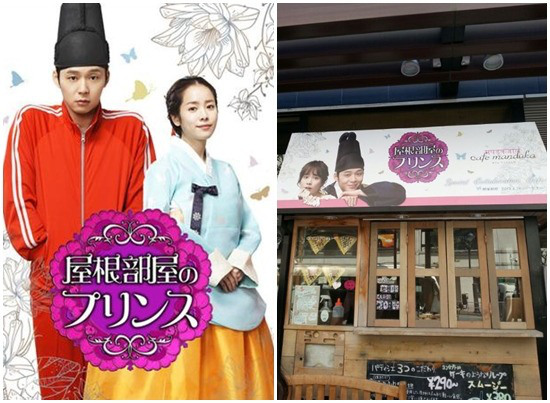 A cafe named after JYJ Park Yoochun's drama 'Rooftop Prince' has appeared in Tokyo, Shibuya.
According to the Japanese Hallyu site 'Mpost', "'Mandoka', which is located in the heart of Tokyo, Shibuya, will be holding a 'Rooftop Prince' event for two weeks from the 26th April till the 9th of May." The cafe is holding this event to go along with the DVD release of the drama. It is to support the first edition DVD release on the 5th of this month, as well as the second DVD release on the 10th of May.
During the event, the cafe will be giving out signed gifts as prizes and will be showing various videos related to the drama. the 'Omurice' that captivated Park Yoochun and his trio will be available for fans for a limited time as a special dish.
'Mandoka' has held a collaboration event for Girls' Generation, 2PM and Aziatix. Although many Hallyu drama are extremely popular in Japan, this is the first time that a cafe has used a drama's name.
Meanwhile, 'Rooftop Prince' is the story of Joseon Prince Lee Gak (Park Yoochun) losing his love (Jung Yumi) and traveling 300 years into the future and falling in love with Park Ha (Han Ji Min) in the 21st Century. 'Rooftop Prince' was chosen as 'The Most Anticipated Korean Drama in 2012′ by Japanese people, even before the drama aired in Korea.
Source: [enews24]
Translated & Shared by: dongbangdata.net
Momma's Source: sharingyoochun.net
Share This