Tag Archives:
Kwan Sang Woo
 Queen of Ambition Poster

Momma's Source: dramacrazy.net
Share This
[TRANS] 121207 TVXQ Yunho & Kwon Sang Woo's First Reading For "Queen Of Ambition" Revealed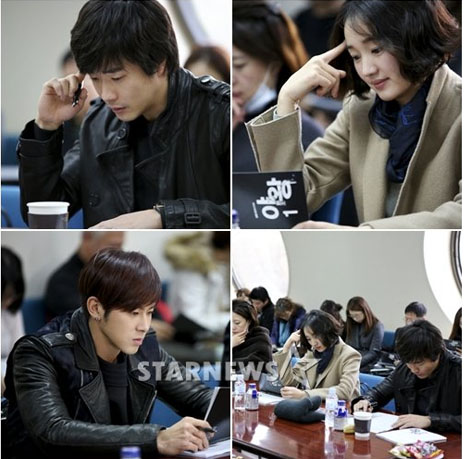 Kwon Sang Woo and Soo Ae displayed their mutual understanding from their first reading for the drama "Queen Of Ambition."
On 7 December, the staff of the new SBS Monday – Tuesday drama "Queen of Ambition" revealed photos for the location of the first script reading held on 6 December.
For this script reading which was held in the Rehearsal hall in the SBS production center, director Jo Young Kwang, producer Park Shin Woo as well as the cast of Kwon Sang Woo, Soo Ae, TVXQ's Yunho, Kim Sung Ryung, Lee Deok Hwa, Cha Hwa Yeom, Lee Il Hwa, Go Joon Hee and others, a total of 60 people turned up for this first meeting.
After greeting each other, the actors started reading the script as if they were at the actual filming, heating up the atmosphere of the rehearsal hall.
According to the production team, Kwon Sang Woo, who plays the male lead Ha Ryu read the script with a gentle voice which matched his character's pure image, and occasionally added some comical humor, earning laughter from everyone. Soo Ae, who plays Da Hae read her script in a quiet voice, but changed her tone and volume at the emotional moments, showing the breadth of her experience as a lead actress.
As TVXQ's Yunho, who plays Baek Do Hyun faced Kim Sung Ryung who plays his sister Baek Do Kyung, they smiled and said their lines, as if it was a real conversation, giving a strong sense of realism.
PD Jo Young Kwang expressed, "I'm really excited about the strong script and good casting," and "Everyone should think like they are the lead characters, and work together to create a good drama."
Source : [K Star News]
Translated & Shared by : dongbangdata.net
Momma's Source: dongbangdata.net
Share This