His second solo album showcase.. A Summer dance track 'Incredible'
JYJ's Kim Junsu (XIA, 26) has come back with his technicolor second solo album 'Incredible'.
Kim Junsu held a showcase for 1,200 fans at the UNIQLO AX Hall in Seoul on the 15th. The day's event was aired live through Melon and LoenTV (http://www.youtube.com/watch?v=-sa351v9k4g).
Having released his new album on various online music sites and iTunes, Kim Junsu performed a total of four songs, 'Tarantallegra' from his first album, and '11 o'clock', 'I'm Sorry', and 'Incredible' from the second album.
Appearing on a throne, the singer exuded an air of confidence and charisma for his rendition of 'Tarantallegra'.He continued to sing '11 o'clock' a capella, till he was joined by a piano halfway through. 'I'm Sorry', which is a traditional ballad, captivated his fans with his husky voice.
Last of all, Kim Junsu walked on stage wearing the red jacket he donned in his music video and was joined by his neon-clad dance crew. He performed 'Incredible' for the first time, showing off his perfect live skills, unmarred by a difficult choreography. The song has a fun melody and strong beat, and showcases Kim Junsu's powerful performance capabilities. As a collaboration with composer Automatic, who Kim Junsu worked with for his US single 'Uncommitted', 'Incredible' features a rap segment from Puff Daddy's son Quincy Brown.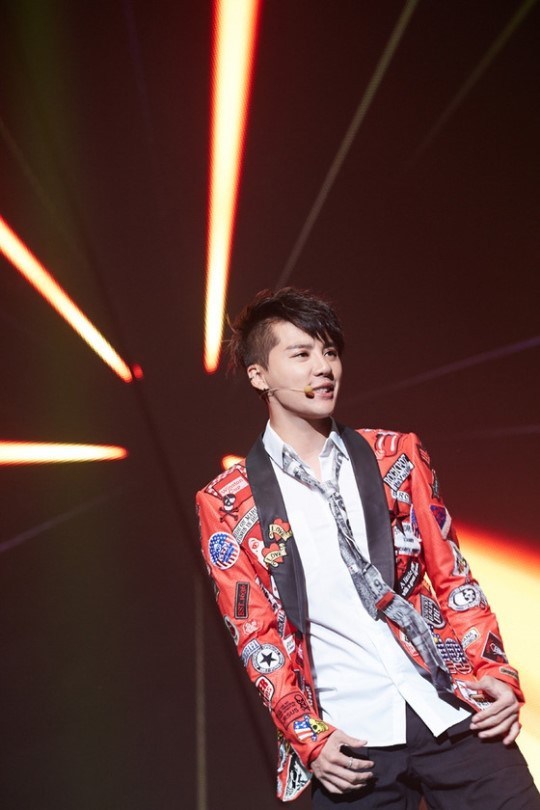 The music video was shot in a house in Malibu and is as refreshing as the song itself. When fans honed in on the kiss scene in the music video, Kim Junsu feigned ignorance as he said, "Oh, the kiss scene. Was that included?" He had everyone laughing as he said, "I just pretended to kiss her. I took on the 'American mindset'. Whether it actually happened or not is up to your imagination. Then again, this is all just business…"
During the press conference that was held after the showcase, Kim Junsu said, "This is the first time in nearly four years that I stood in front of a camera (for a broadcasted show). Although it wasn't on TV, it was still a broadcasted program and it was fun and exciting. I had a great time." Kim Junsu has been unable to appear on broadcasted programs in the past due to his legal dispute with his former agency SM Entertainment.
Kim Junsu's second album features a total of 12 tracks, including the pre-released track '11 o'clock'. Kim Junsu participated in the composing, lyric writing and producing process of the album and showcased his maturity as a singer.
His second album features a variety of genres including dance, ballad, electronic, funk, neo-soul, R&B and acoustic. C-JeS Entertainment stated, "The composers who participated in this album all praised Kim Junsu for his musical abilities and value as a vocalist."
Kim Junsu will be kicking off his Asia Tour with the release of his new album. Staring in Bangkok, Thailand on the 20th, he will hold concerts in Shanghai (28th), Seoul (August 3rd~4th), and Busan (10th, 11th).
Source: [news1]
Translated & Shared by: dongbangdata.net
JYJFantalk Source: dongbangdata.net
Share This