[TRANS] 111224 Young Millionaire : Park Yoochun, Asia's Most Popular Artist, Best-Selling In Korea, Japan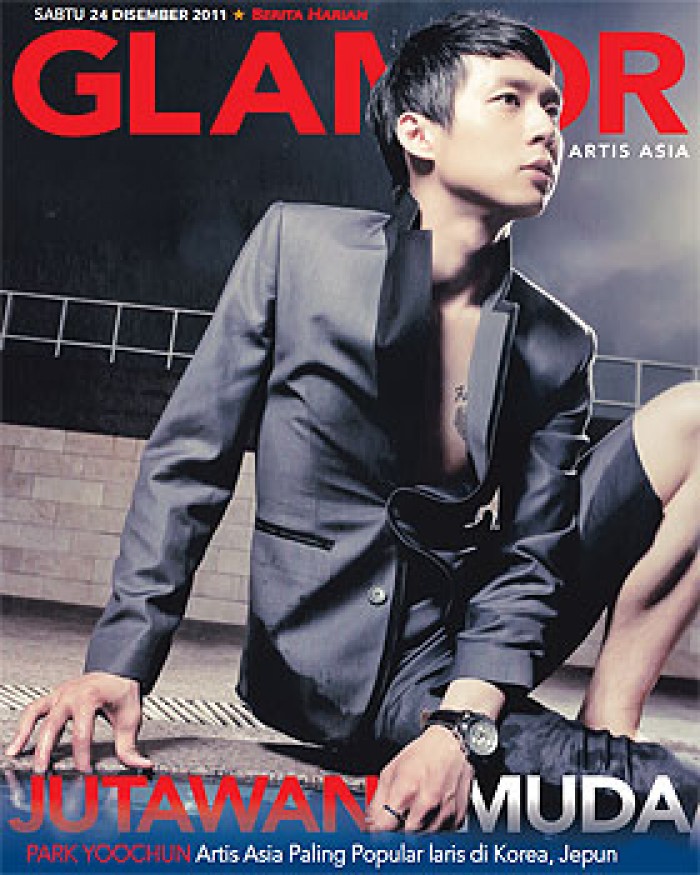 Park Yoochun's income is RM31 million(US$10 million)
He's only 25 years old but his achievements probably invites jealousy from those who are also chasing the dream of being an artist.
Park Yoochun is in the list of top 5 young celebrities who rake in a hefty income, earning RM31 million (US$10 million) a year, at once becoming an inspiration to many youths who seek  similar glory. Not just enjoying popularity in his own country, Yoochun is adored by Japanese fans as well. The explosion of his popularity allows him to receive between RM90,000 to RM100,000 for every appearance.
This level of comfort wasn't achieved by Yoochun in the blink of an eye. He started out facing hardships, but he didn't give in or allow fate to dictate his life. Born and raised in Seoul, Korea on 4 June 1986, his family migrated to Virginia, US when he was 13 years old. "The people around me thought that migrating to the US would change my life. They thought I was lucky. Thinking back to that moment makes me not want to go through it all over again. Our financial situation was tough, and it drove me to work hard," he said. The harsh beginnings have a massive impact on this handsome youth, who's fondly called "Micky" and "Yuchun" by his fans.
Nevertheless, everything changed in 2003 when SM Entertainment held auditions in the US and Yoochun was picked in that session. With four other members, he joined TVXQ and enjoyed a popularity so meteoric, they were labelled as Asia's stars, as well as "Kings of the Hallyu wave". TVXQ reaped various awards in their own country, and in fact Yoochun played a big part in strengthening the group's journey.
Their achievements weren't in Korea alone. TVXQ's rapid popularity snaked into Japan and a week after their first appearance, they started arranging for various activities in the Land of the Rising Sun. His natural talent for writing also led Yoochun to write the song "Kiss The Baby Sky," that became the theme song of a morning news program in Japan, and allowing him to earn a lucrative income.
However, the sky wasn't always clear. In 2009, Yoochun faced a major crisis that created so many possibilities when his career was at its peak. In mid-2009, Yoochun and two other members of TVXQ, Kim Jaejoong and Kim Junsu, filed a lawsuit against SM Entertainment for an unfair contract. This lawsuit is still ongoing but the courts have allowed them to be active in the entertainment industry. On October 2010, they formed JYJ.
(Despite the troubles,) those worries gradually faded away when he was given the chance to start something new in his career.
He chose to become an actor and through "SungKyunKwan Scandal," a drama that's been sold to several countries, the royalties he received amounted to RM20 million. It has also been hailed as one of the most popular television dramas. He received RM951,000 for every episode, and another RM380,000 for overseas sales, at once putting Yoochun as the celebrity whose earnings reached RM63 million.  His Japanese fans also gave a positive response to the drama, allowing Yoochun to receive a certain amount of fees through DVD sales.
Not just successful in acting, Yoochun, who has been crowned as Asia's Most Popular Artist also sang the theme song for the drama that earned various acknowledgements on online charts.
(With JYJ), he also produced an album that sold over 410,000 copies, besides raking in total sales of over 780,000 copies for several popular singles in Japan. In 2010, over 1.2 million copies of albums sold had indirectly contributed to the handsome youth's lucrative earnings.
JYJ's booming popularity made the trio, especially Yoochun, the advertisers' top choice in South Korea.Throughout 2011, Yoochun acquired individually, lucrative contracts as tea product ambassador for Tio, Nintendo Wii for the launch of the latest edition of Zelda, Black Smith's pizza chain and the latest, ramen brand Ottogi. Together with JYJ, Yoochun also appeared in the LG Optimus Q2 ad and became spokesperson for clothing brand NII, Penzal Q, retail outlet Lotte Duty Free and cosmetic company, Nature Republic.
Profile:
Full name: Park Yoochun
Stage name: Yuchun or Micky Yoochun
Date of birth: 4 Jun 1986
Siblings: Oldest, with younger brother Park Yoohwan
TV series: Sungkyunkwan Scandal and Miss Ripley
Commercials: Tea drink Tio, Black Smith Pizza, Nintendo Wii for the latest edition of Zelda and Ottogi ramen
Individual Achievements (Acting): Best New Male Actor, Internet Choice Actor Award, Favourite Couple Award at the KBS Drama Awards 2010. Most Popular Male Actor, 47th Baeksang Arts Awards (2011), Most Popular Actor in Asia and Best Male Actor at the Seoul International Drama Awards 2011.
Albums with JYJ: The Beginning [October 2010] received 500,000 units ordered and In Heaven [September 2011] 300,000 units ordered.
Source : [Berita Harian Online]
Translated & Shared by : dongbangdata.net
Momma's Source: dongbangdata.net
Share This