[TRANS] 111114 Kim Junsu Wins Popularity Award At "Korea Musical Awards," Feels That Award Is "Very Meaningful"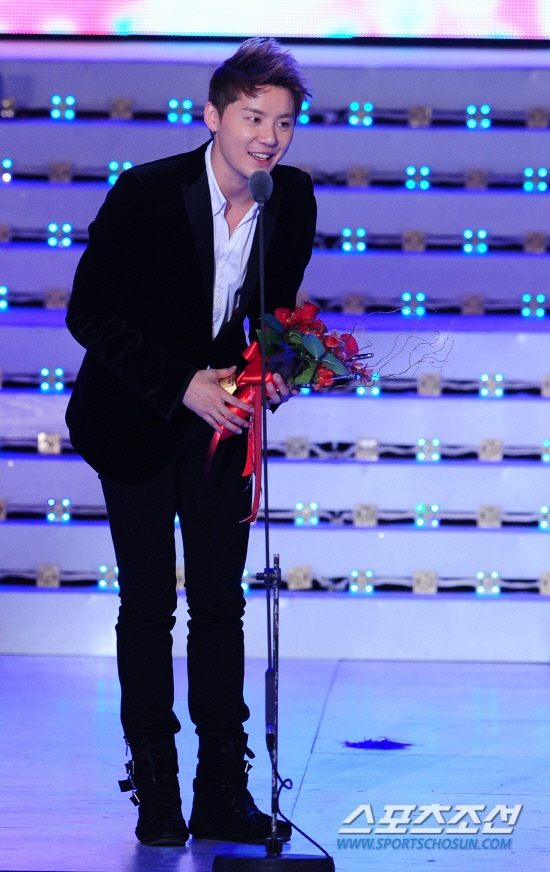 JYJ's Kim Junsu has won the popularity award two years in a row.
On 14 November, at the Olympic Hall in the Olympic Park, the 17th Korea Musical Awards ceremony was held.
This ceremony was hosted by singer-actor Lee Hyun Woo as well as SBS announcer Yoo Hye Young, and was broadcast live on SBS starting at 5.13pm
This day, Kim Junsu and Yoon Gong Ju were awarded the Popularity awards. Both of them appeared together in the musical "Tears of Heaven." This is Kim Junsu's second consecutive year to be winning the popularity award.
Kim Junsu said, "Firstly, I want to say thank you for giving me such a precious award. I feel that the passion and strength that is put in by the actors and staff for the sake of the audiences, is the strength of a musical, and that is the greatest charm we want to show in every performance."
Following which, he said, "After last year, I want to express my gratitude for being able to appear again, and to receive an award this year."
Kim Junsu also said, "I'm not sure when it started, but despite having objective numerical evidence, we were unable to get a fair review, and to suffer from this was something that made me very sad. To be able to stand here today bears great meaning. To all the audiences  and fans who laughed with me, and cried with me through every single performance,  thank you," ending his acceptance speech.
Source : [BaiduTVXQ + TV Report via Nate]
Translated & Shared by : dongbangdata.net
Momma's Source: dongbangdata.net
Share This