[Trans] 111130 JYJ Become "Sold-Out Boys"…. 70,000 Copies Of Remix Special Edition Sold Out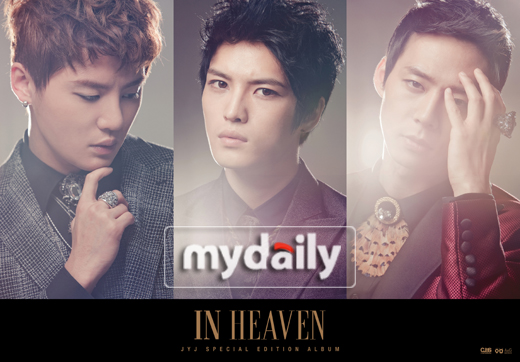 Group JYJ's special edition album has sold out at 70,000 copies.
On 30 November, JYJ's management company C-JeS revealed that "JYJ's first Korean album released in September, recorded 250,000 copies in sales despite the broadcast restrictions, a proof of their burning popularity. To express their gratitude towards the fans, JYJ released a special edition album which included a MV DVD and remix versions, and this (special edition album) is currently sold out at 70,000 copies."
This Special Edition album includes remix versions of the two songs that have been greatly loved by fans across the world during their worldwide concerts, "Get Out" and "In Heaven." The trendy electronic mix for Get Out was co-produced by DJ Fractal, who had previously worked with Seo Taiji.
As for the ballad "In Heaven" which leaves a deep impression of people with its 3-member harmony, it uses an acoustic guitar sound as its focal point, blending the unique softness of pop ballads together with powerful rock elements.
JYJ said, "As these are songs that we wrote ourselves, the remix versions are even more special.This year, be it those who hope to have a sensitive, delicate year-end, or those who are at a party with their friends, we hope that everyone can enjoy the remixed songs comfortably, and with our new music, spend a warm winter together with your loved ones. "
C-JeS said, "The "In Heaven" Special Edition which was released last week was sold out from its release, and requests from fans who have not been able to purchase the album have been pouring in. As this is a special edition album and not an actual album, having a situation of such a high level of demand is extraordinary in the music industry. To thank the fans for their never-ending support, we will continue to use various opportunities to give back to the fans for their love."
JYJ's remixed tracks will be released on Melon, Dosirak, Bugs, Cyworld and other key music distribution sites on 1 December.
Source : [BaiduTVXQ + My Daily via Nate]
Translated & Shared by : dongbangdata.net
Momma's Source: sharingyoochun.net
Share This