[Trans] 120309 Release Of JYJ Jaejoong & Ji Sung's "Protect The Boss" Sale & Rental DVDs Decided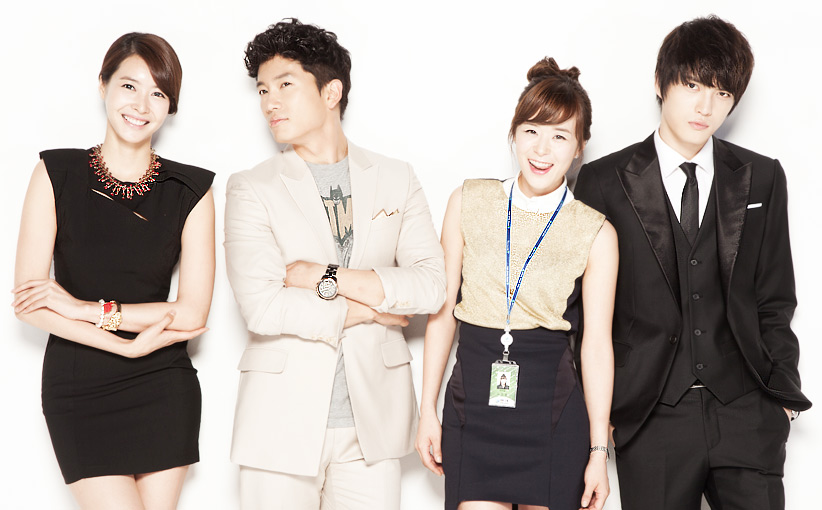 It has been decided for the DVD of drama which Ji Sung and JYJ's Jaejoong star in, "Protect The Boss", will be released for sale and rental.
★Highly-anticipated milestone, Jaejoong's first Korean drama!
Jaejoong, who has always been very popular as a K-pop artist, finally made his appearance in a Korean drama for the first time, following his appearances in the movie "Heaven's Postman" and the Japanese TV drama "Sunao Ni Narenakute". He effectively takes on the role of a cool male boss, who is good at what he does, and is highly trusted by the company!
★A big break in Ji Sung's acting, where he shows a different side of him!
Jisung, who starred in a series of hit dramas, including "Swallow The Sun" and "Royal Family", plays the role of a willful, good-for-nothing son from a distinguished family, who fares poorly in his job. With his acting, Ji Sung brings to life the character of a good-for-nothing, a big break for him in Korea!!
★Much interest in the cute competition between Jaejoong and Ji Sung!
Jaejoong, who plays the role of a competent cool-guy, and Ji Sung, who plays the role of a good-for-nothing son of a wealthy family, create much laughter when they act out comical and cute scenes where they physically fight over, the female protagonist, a newbie secretary. A romance-comedy that is both romantic and hilarious unfolds in the office and in the secretary's office!!
★First time in history! Simultaneously broadcast by two broadcasters in Japan!
A highest viewing rate of 20.5% was recorded in Korea! (The drama) became a topic of discussion when the broadcast was extended at the last-minute with 2 episodes added, and it was quickly decided for it to be broadcast in Japan! It became an exception, when DATV and KNTV both began broadcasting it simultaneously in November 2011!!
★Luxury benefits included in each DVD-BOX!
Each DVD-BOX is bundled with a luxurious photobook and postcard set with Jaejoong and Ji Sung as the focus! In addition, in DVD-BOX II includes a special disc with NG clips will feature the honest sides of the cast, as well as other (related) programmes that were broadcast in Korea!!
◆Original Release: SBS Contents Hub
◆Distributor: Media Factory
◆Official Homepage: http://www.mediafactory.co.jp/hanryu/boss/
◆Broadcast:
Korea – From 3 August 2011 (18 episodes broadcast by SBS)
Japan – First to be broadcast simultaneously!
From 10 November 2011 (Thursday) (by KNTV)
From 12 November 2011 (Saturday) (by DATV)
【11 May 2012 (Friday)】
●「Protect The Boss DVD-BOX I」 On Sale (ZMSY-7621) 17,955 yen (tax inclusive)
Includes episodes 1 – 10/ This volume includes 5 discs / This volume is approximately 700 minutes long (tentatively)
【Benefits】
1. Luxurious photobook
2. Postcard set
※Rental available from the same day Vol.1 – 5 (Each contains 2 episodes)
【8 June 2012 (Friday)】
●「Protect The Boss DVD-BOX II」 On Sale (ZMSY-7622) 17,955 yen (tax inclusive)
Includes episodes 11 – 18 + special footage / This volume includes 4 discs + 5 special discs / This volume is approximately 560 minutes long + 120 minutes of special footage (tentatively)
【Benefits】
1. Luxurious photobook
2. Postcard set
3. Special disc (includes NG footage + related programmes never shown in Japan)
※Rental available from the same day Vol.6 – 9 (Each contains 2 episodes)
【Both Sale & Rental】
Korean drama produced in 2011 / Single-sided, double-layer / Colour / Display size: 16:9 / Sound: Dolby Digital 2ch / Language: Korean, Japanese / Subtitles: Japanese
Source : [K Star News]
Translated & Shared by : dongbangdata.net
Momma's Source: sharingyoochun.net
Share This