News 110518 Second SM Entertainment Concert in Paris Sells Out in Minutes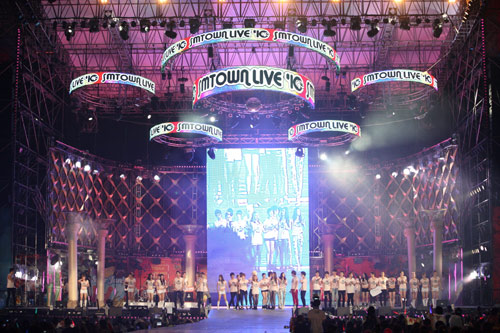 Tickets for an extra concert for SM Town Live in Paris scheduled for June 11 sold out within minutes thanks to an explosive response by European K-pop fans, following the first show.
Booking for the June 11 show opened at 10 a.m. on Monday through online ticketing agencies such as Live Nation and Fnac. The sites temporarily crashed under heavy traffic, and the tickets were completely sold in just 10 minutes.
Courtesy of SM Entertainment
The second date was added after fans snapped up all the tickets for the June 10 concert in just 15 minutes when online booking opened on April 26. That caused some tickets to be traded on the black market, and some 300 K-pop fans demonstrated in front of the Louvre on May 1 demanding another date.
The concerts will be held at Le Zenith de Paris and feature several of SM's top groups including TVXQ, Super Junior, Girls' Generation, SHINee and f(x).
The company has held its Town Live concerts in Seoul, Los Angeles, Tokyo and Shanghai. They will return to the Tokyo Dome on Sept. 3 and 4 for some 100,000 fans.
credit: englishnews
shared by: sharingyoochun.net
our source: sharingyoochun.net