[TRANS] 111115 "Heavenly Singer" Kim Junsu Wows Everyone In Just Five Seconds With 'Dancing Queen'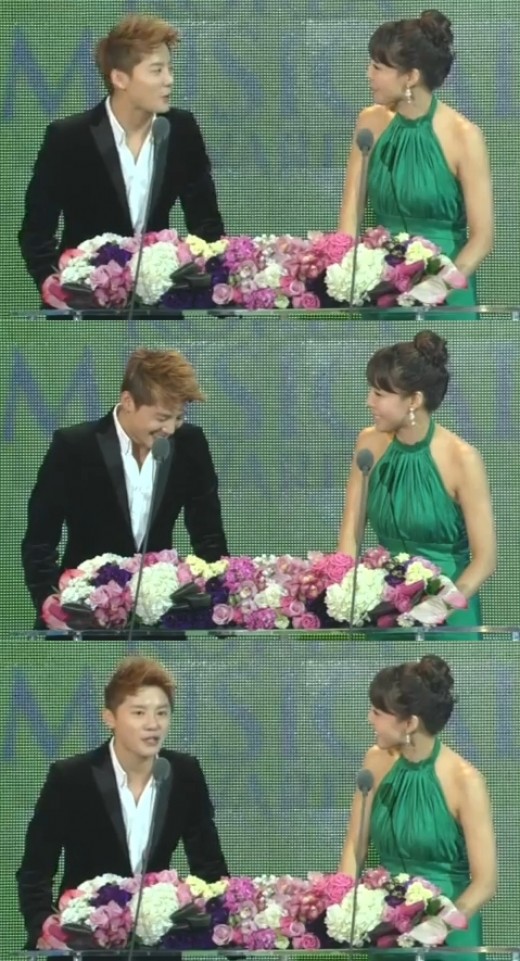 Group JYJ's Kim Junsu has left a deep impression on everyone's mind with a short rendition of 'Dancing Queen'.
Kim Junsu appeared at the 17th Korea Musical Awards that was held at the Olympic Hall on the 14th of November to present an award with the musical actress Jeon Soo Gyung. When she asked Kim Junsu, "Do you have any musical songs you could sing for me?" the crowd burst out in applause.
Kim Junsu kept his gaze on his counterpart as he sang 'Dancing Queen' from the musical 'Mamma Mia!' and he wowed viewers with the single line, 'Remember, you really are the greatest dancing queen'. As the awards ceremony was aired live on SBS, this was the first time in a while that viewers had the opportunity to hear Kim Junsu sing on a broadcasted program.
Netizens who saw this moment left comments such as, "He's a heavenly singer. His voice is amazing", "Though it was short, it had a great impact", "Jeon Soo Gyung let him sing for us", and "His voice is amazing, as expected! He's a great singer! He's just great in general!"
Meanwhile, Kim Junsu and Yoon Gong Ju were awarded the popularity awards.
Source: [TV Report]
Translated & Shared by: dongbangdata.net
Momma's Source: dongbangdata.net
Share This