credit: sharingyoochun.net
JYJ Fantalk Source: sharingyoochun.net
Share This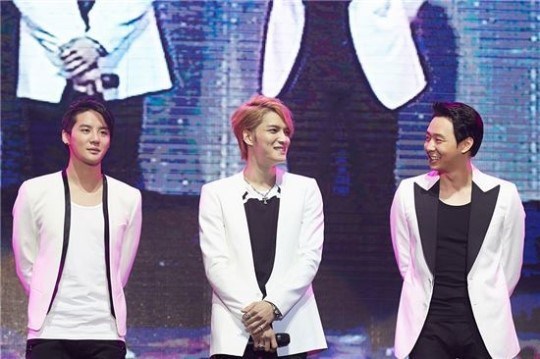 JYJ recently met with fans at the 2014 Incheon Asian Games Road Show showcase that was held in Guangzhou, China.
C-JeS Entertainment stated, "As the honorary ambassadors of the 2014 Incheon Asian Games, JYJ attended the press conference and showcase of the PR Road Show that was held in Guangzhou, China."
On the 21st of November, JYJ performed their Incheon Asiad Song 'Only One' and Kim Jaejoong's recent title song 'Just Another Girl' for 7,000 fans at the Guangzhou Gymnasium.
The atmosphere of the event was upbeat and lively as the audience danced along with JYJ during their 'Only One' dance lesson section.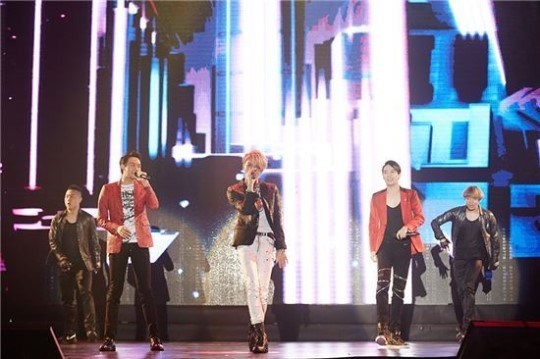 Jung Gun Young, who was in charge of creating the choreography for 'Only One', stated, "The choreography of JYJ's theme song is easy enough that anyone could perform it. We set aside some time to teach the audiences of our Vietnam and Guangzhou road shows the choreography, and we received such a great reaction that it already feels like the festival has begun."
One representative stated, "130,000 fans vied for tickets to JYJ's Guangzhou Road Show and the event was sold out in three minutes and fifty seconds. Thanks to JYJ's global popularity, advertisement for the Incheon Asian Games is going extremely well with the road shows becoming so successful."
This representative continued to add, "We are extremely grateful to and proud of JYJ, who took time from their busy schedules to promote the road show during their press conference and gave a great performance during the main event."
In the press conference that was held before the showcase, JYJ stated, "We're honored to be promoting this international event, and we're enjoying our promotional activities because it brings us all together despite our busy schedules," and "Please give your love and attention to the Incheon Asian Games."
Meanwhile, JYJ will focus on their individual activities after the showcase.
Source: [asiae]
Translated & Shared by: dongbangdata.net
JYJ Fantalk Source: dongbangdata.net
Share This