[Trans] 111017 Comedian Abukawa Mihoko's Blog on JYJ's Concert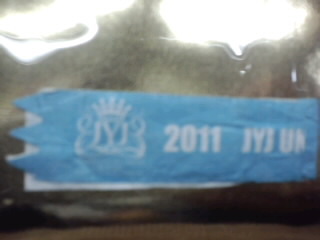 *Notes: Abukawa Mihoko is a member of the comic duo Hokuyou that has been in the scene since 1995.
☆I went to the concert by chance☆
Because of work, I thought I wouldn't be able to go but by chance, I unexpectedly was able to go yesterday.
Things like that can happen!? I was so shocked that my expression was of a pigeon who was shot by a peashooter.
Because it was too sudden, I could only go alone.
When I arrived at Katsuta Station, I wanted to cry out of excitement but I was all by myself.
When I was trying the suppress my emotions,
a lot of kind people came to me and we shared the same excitements.
There are a lot of nice people. Thank you very much.
To be able to see the 3 of them singing and dancing was like a dream to me, I was so happy.
When I was watching them, my hands unconsciously became hands of a cutesy young girl.
This morning, I unbelievably woke up at 3:30am.
Well everyone, let's wake up from our dreams and go back to the real world.
Just kidding, I still don't want to go back to the reality~. (in Yoochun's style)
Grin ♪
Source: Abukawa Mihoko's Blog
Translation: linhkawaii @ OneTVXQ.com
Credits: OneTVXQ.com { One World. One Red Ocean. One TVXQ! }
Feel free to repost, but please leave the full credits intact. Thanks![/quote]
Momma's Source: sharingyoochun.net
Share This: