[News] 120815 TVXQ Holds Special Fan Signing in Myeongdong for 'Missha'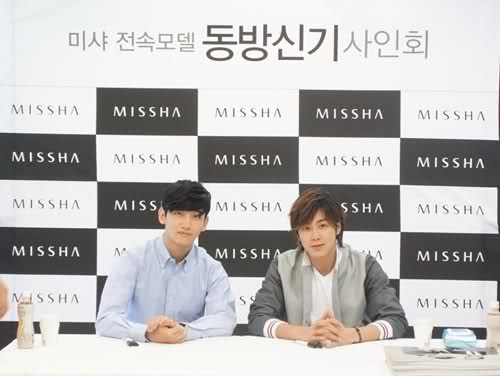 On the afternoon of August 14th, TVXQ set out to the streets of Myeongdong for their 'Missha' fan signing event.
The event was set up as a celebration of the release of a special limited edition TVXQ perfume set that includes two perfumes embossed with the autographs of the members along with a photobook on all of the latest pictures of the group.
Attendance for the fan signing was organized prior to the event online, and as expected, fans crashed the site's servers with over 5,000 rushing to grab a seat. On the actual day of the signing, hundreds were said to have paralyzed the area as they crowded around the boys' table.
TVXQ made sure to hold each of their fans' hands and greet them face to face. Like the Hallyu stars they are, reporters were able to spot a number of Japanese and Chinese fans in line as well.
The duo stated, "We'd like to deeply thank everyone who've expressed interest in the Missha limited edition release. We'll be showing more variety as models to advance the Missha brand into the global market."
Source + Photos: Newsen
credit: allkpop
Tip: and_so
Momma's Source: sharingyoochun.net
Share This