[TRANS] 121228 Rookie Group 'Pure' To Hold A Relay Of 100 Concerts To Wish For TVXQ's Reunion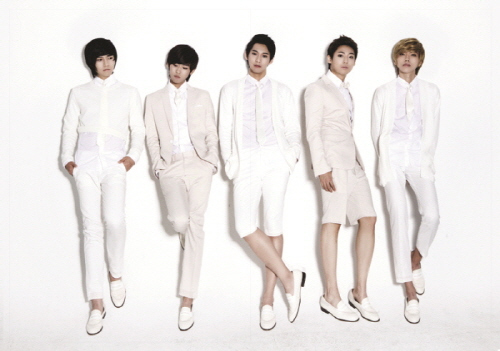 The five member rookie group 'Pure' will be holding a charity concert in the hopes that the former members of TVXQ, who have now split into TVXQ and JYJ, will soon stand on one stage again.
Pure Entertainment (CEO Park Sang Hyun) revealed that the group will be holding 100 concerts at the pure k-pop live concert hall near Myeongdong in Seoul from the 12th of this month, with the hopes that the five members of TVXQ will reunite soon, before making their broadcasted debut.
The rookie group consists of white Soo Hyuk, pink Chan Hwee, black Ji Min, blue Jung Bin and yellow Young Hoo. Created by Pure Entertainment's CEO Park Sang Hyun, who is a long-time fan of TVXQ, the group is meant to be an homage for domestic fans who miss TVXQ.
It was found that the five members of Pure were picked after beating stiff competition in an audition that centered around TVXQ's good looks, singing, and dancing, as well the contestants' affection for TVXQ. Pure showed off their talents in Japan first, and have already held two sold-out showcase events in Tokyo.
The concerts will be held three times a week and fans of TVXQ, children of families with no parents, and the disabled will be given free admittance. A portion of the profits will be donated to the 'Fruits of Love' foundation to help those in need.
Also, Pure created the project group 'Pure Family' with the soon-to-debut trio 'The Soul' and Han Sung Wook, who entered the finals of MBC's 'Birth of a Great Star', and will release the charity album 'Standing Together' for those in need.
The music video of their title song has already garnered much attention as it reenacted the true story of a man who found the body of his wife-to-be by the initials on her engagement ring in the aftermath of the earthquake in Japan last year. It was later said that people in the Miyagi and Sendairegion who had experienced the earthquake took part in the music video and shared the pain and despair they felt at that moment.
'Standing Together' will be released on the Korean, English and Japanese version of iTunes at the same time, and the profits will be donated to the 'Fruits of Love' foundation.
Pure's Leader White Soo Hyuk stated, "We're happy to be greeting fans with such meaningful events as our relay concert and charity album," and "We will do our best to not tarnish the achievements that our TVXQ seniors have made overseas at our Sendai, Japan and New Jersey, USA charity concerts. We sincerely hope for the day when we can see the five members of TVXQ on stage together to come soon."
Source: [fntoday]
Translated & Shared by: dongbangdata.net
Momma's Source: dongbangdata.net
Share This