A photo of JYJ inside their recording studio has become the center of the netizens' attention.
The photo was revealed on the 2014 Incheon Asian Games committee's official Facebook page (www.facebook.com/IncheonAG2014) and was taken while JYJ were recording their Incheon Asiad song 'Only One'.
netizens who saw the photos left comments such as, "Look at them posing keke. They're so cute", "I feel my heart healing, just by looking at JYJ. I hope to see them more often from now on", "They're musicians. It's great to see them all together", "They're even wearing the same sunglasses?", "Till when are they are going to keep getting even more handsome? Seriously?", "The best visuals. Totally," and "I'd never get sick of being around them."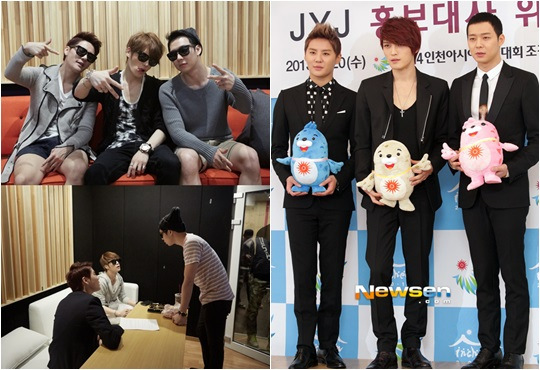 Meanwhile, the released photo showed the members of JYJ seriously discussing their music as the honorary ambassadors of the 2014 Incheon Asian Games, as well as making mischievous poses at the camera.
The committee has announced that it will also be releasing solo shots and photos of JYJ practicing their choreography during the week through their Facebook account. The full audio and music video of 'Only One' will be revealed on the 16th of September.
Source: [newsen]
Translated & Shared by: dongbangdata.net