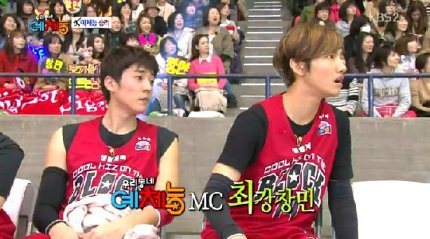 TVXQ (U-Know Yunho, Max Changmin)'s Max Changmin has marked the end of his time on 'Our Neighborhood's Master of Variety and Sports' with the celebrity team's basketball match against a Seoul team.
A basketball match between the celebrity team and the Seoul team was featured during the episode of KBS 2TV's variety show 'Our Neighborhood's Master of Variety and Sports' that aired on the 4th. On this day, the celebrity team was able to beat out the Seoul team by a small margin, keeping viewers on the edge of their seats.
Max Changmin opened up about leaving the program and said, "In the past, I never used to participate in sports. Because my body isn't that strong, I would easily get injured," and "This was the first time that I've learned the joy of playing sports with others."
Meanwhile, Max Changmin has been appearing on the show since it began last April. Till now, Max Changmin has participated in the show's table tennis, bowling, badminton and basketball matches, bringing laughter and emotions to the show's viewers.
Source: [mt starnews]
Translated & Shared by: dongbangdata.net
JYJ Fantalk Source: dongbangdata.net
Share This